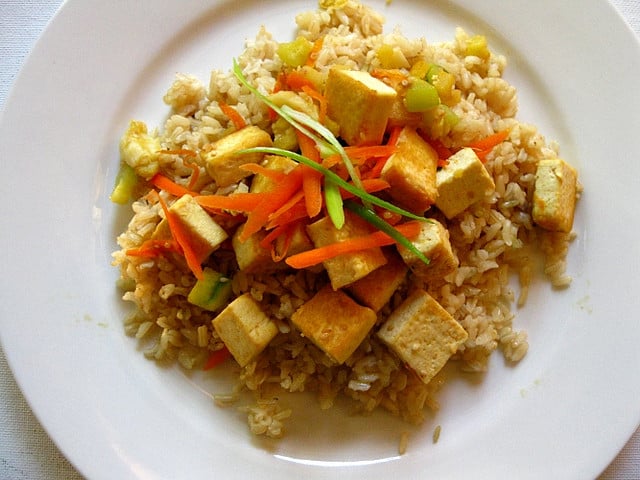 Tofu is downright scary to many people. The white blocks can be intimidating, and the explanation behind their prep and draining procedures is enough to make most mainstream eaters run for the hills. But the protein-packed bean curd is actually extremely versatile, adaptable, and easy to love. It's a great vehicle for a number of different flavors, and what's more, it has been shown to help lower bad cholesterol and even possibly lower the risk of cancer. Tofu is also a great source of protein, calcium, and vitamin E.
The secret to liking tofu is all in its preparation. No one is going to like the bean curd in its original form, but when seasoned, roasted, baked, or sautéed and thrown in soups, stir-fry meals, noodle dishes, burgers, and pizzas, tofu takes on a whole new story. Here are six completely different ways you can cook up your tofu. From tacos, to burgers, to stir-fry meals, to pizza, to steaks, the possibilities really are endless — and now you have no excuse not to try this versatile meat substitute.
1. Cashew Tofu and Broccoli Stir Fry
First up is an extremely easy and versatile tofu dish that many people think of when they imagine a nutrition-packed meal that tofu stars in. Stir-fry dishes are some of the easiest dinners you can get on the table on busy weeknights, and if you prepare this Cashew Tofu and Broccoli Stir Fry from Organic Gardening, you won't even have to turn on the oven. All you need to do to prep the tofu is press it for 20 minutes before you cook, and then it can go right into the skillet. Serve it over rice with your nuts and vegetables and you have a healthy and hearty meal.
Ingredients:
1 container (14 ounces) firm light tofu
2 tablespoons reduced-sodium soy sauce
2 tablespoons honey
1 tablespoon rice vinegar
1 teaspoon cornstarch
3 cups broccoli florets
3 teaspoons toasted sesame oil
1 red bell pepper, chopped
1 tablespoon minced fresh ginger
3 garlic cloves, minced
1/2 cup unsalted cashews
3 scallions, chopped
2 cups cooked brown rice
Directions: Place the tofu on a paper towel set on a dinner plate. Top with a second paper towel and another dinner plate. Place a can or other similar weight on the upper plate and leave for 20 minutes to press excess water from the tofu. Meanwhile, bring a medium pot of water to a boil. Combine the soy sauce, honey, vinegar, and cornstarch in a small bowl. Add the broccoli to the boiling water, return to a boil, and cook for 1 minute or until bright green. Drain and set aside.
Transfer the tofu to a cutting board and cut into 1/2- to 3/4-inch cubes. Heat 2 teaspoons of the sesame oil in a large nonstick skillet over medium-high heat. Add the tofu and cook, stirring occasionally, for 4 to 5 minutes, or until lightly golden. Transfer the tofu to a plate and set aside. Heat the remaining 1 teaspoon oil in the skillet. Add the pepper and cook, stirring occasionally, for 1 minute. Add the ginger and garlic and cook for 30 seconds, or until fragrant. Stir in the broccoli and tofu, and cook for 1 1/2 minutes, or until hot. Stir the soy sauce mixture to recombine and add to the skillet along with the cashews. Cook, stirring for 1 minute. Remove from the heat and stir in the scallions. Serve over the rice.