Unique and Healthy Recipes Using Coconut
We're finding quite a lot to love about coconut. It has been exonerated in recent years as scientists learn more about cholesterol, and we're seeing a rise in coconut oil, milk, water, meat, flour, and flakes in day-to-day recipes all over the place. It is rich in fiber, with a 2-inch square packing 16% of your daily requirement, as well as 10% of your copper, 34% of your manganese, and 5% of your potassium. It's low carb, but it's also high-fat; keep an eye on how much you're eating if you're watching your calorie count. When buying dried coconut, look for unsweetened varieties. Starting with an unsweetened version helps you control the sweetness, but the sweetened shredded coconut also tends to be leathery, while unsweetened flakes have a wonderful crunch.
Coconut adds a sunny, tropical flare to just about any dish. These 9 recipes are guaranteed to brighten your day!
1. Coconut Breakfast Pudding with Sauteed Nectarines
This breakfast from Whole Living is a neat and tidy oatmeal dish for two. For the best coconut flavor, look for virgin, unrefined coconut oil.
Ingredients:
⅔ cup old-fashioned rolled oats
⅓ cup unsweetened shredded coconut
1 cup almond milk
⅛ teaspoon ground cinnamon
Pinch of coarse salt
2 teaspoons coconut oil
2 nectarines, sliced
1 tablespoon maple syrup, plus more for drizzling
¼ cup unsweetened large coconut flakes, toasted
Directions: In a bowl, combine oats and shredded coconut with 1½ cups water and refrigerate overnight.
Transfer mixture to a saucepan and add milk, cinnamon, and salt. Bring to a boil, then reduce heat and simmer, covered, until creamy, about 12 minutes. Remove from heat, stir, and cover.
Heat oil in a medium skillet over medium-high heat and sauté nectarines until golden, 1 to 2 minutes, before stirring in syrup.
Divide oats between two bowls and top with nectarines and coconut flakes. Drizzle with additional syrup, if desired.
2. Coconut Quinoa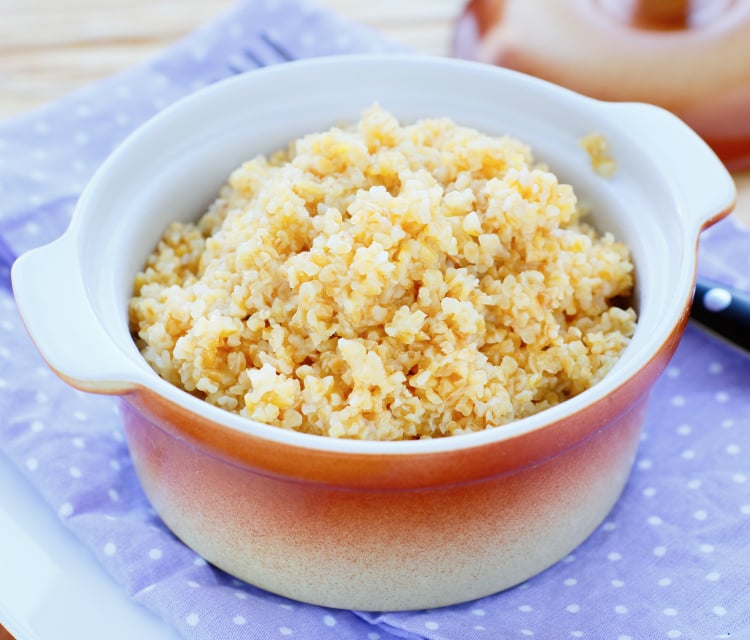 With a swirl of fruit, honey, or maple syrup, this quinoa could make a filling and protein-packed breakfast. Without the sweeteners, though, this quinoa is the perfect bed for fish or curries. Bon Appétit uses both virgin coconut oil and unsweetened coconut milk for flavor. Don't look for the carton here, but do go for the can. The creaminess of either full-fat or lite coconut milk adds a divine richness to the quinoa.
Ingredients:
1 tablespoon virgin coconut oil
1½ cups quinoa, rinsed well
1 (13½-ounce) can unsweetened coconut milk
1 teaspoon kosher salt
Directions: Heat oil in a medium saucepan over medium heat. Add quinoa and cook, stirring often, until golden, about 5 minutes. Add coconut milk, salt, and 1½ cups water and stir to combine. Bring to a boil; reduce heat, cover, and simmer until quinoa is tender and liquid is evaporated, 20 to 25 minutes. Let sit 10 minutes. Fluff with a fork.
3. Coconut Macaroons
Not to be confused with the fussy little French cookie sandwiches (macarons), these are instead the joyous little mounds of coconut and whipped egg white from The Kitchn. They're crunchy on the outside, chewy in the middle, and gluten-free. They're also quick and easy to pull together. Experiment with these to find your preferred macaroon here. For a snowy white color, skip the toasting step and watch your macaroons in the oven. For crunchier cookies, whip your whites into a stiff peaked meringue. Don't be afraid to add nuts, chocolate, or dried fruit.
Ingredients:
3 cups sweetened, shredded coconut
4 large egg whites
½ cup sugar
1 teaspoon vanilla or almond extract
¼ teaspoon salt
Directions: Preheat the oven to 350 degrees Fahrenheit. Place an oven rack in the bottom third of the oven. Gather all your ingredients and equipment.
For deeper coconut flavor and extra-crispy macaroons, spread the coconut on the baking sheet and toast for about 5 minutes, or until just barely starting to show some color. Let cool slightly before using.
Combine the egg whites, sugar, vanilla, and salt in a mixing bowl. Whisk until the whites and sugar are completely combined and the mixture is frothy. For crispier macaroons, whisk the egg whites and salt until they hold soft peaks, and then gradually sprinkle in sugar and whip to stiff peaks. Fold in vanilla.
Pour the coconut over the egg white mixture and stir until the coconut is evenly moistened.
Shape the macaroons. Line the baking sheet with a silpat or parchment. With wet hands to prevent sticking, shape the coconut mixture into small balls about 1½-inches in diameter. Space them an inch or so apart on the baking sheet.
Bake the macaroons for 15 to 20 minutes, until golden. Let the macaroons cool on the baking sheet for 5 minutes, then transfer to a wire rack to cool completely. Macaroons can be kept in an airtight container for up to a week.
4. Spicy Brazilian Coconut Chicken
This Brazilian chicken from Clean Eating is coated in a jalapeño and ginger-infused coconut sauce. Heavily spiced and full of flavor, this lean chicken dinner is sure to please at the table. Serve with rice and black beans studded with onion and tomato to make it a meal.
Ingredients:
4 teaspoons extra-virgin olive oil
4 cloves garlic, minced, divided
½ teaspoon ground cumin
½ teaspoon ground cayenne pepper
½ teaspoon ground turmeric
½ teaspoon ground coriander
6 (5-ounce) boneless, skinless chicken breasts
1 jalapeño chile pepper, seeded and roughly chopped
⅓ cup peeled and thinly sliced fresh ginger
¼ cup packed fresh cilantro leaves, plus additional for garnish
2 tablespoons fresh lemon juice
1 yellow onion, diced
2 cups jarred or boxed unsalted diced tomatoes, divided
½ cup low-sodium chicken broth
1 cup light coconut milk
3 tablespoons unsweetened shredded coconut, toasted
Directions: In a large bowl, combine oil, 2 cloves garlic, cumin, cayenne, turmeric and coriander. Add chicken and stir to coat. Cover and set aside to marinate for 30 minutes. Meanwhile, in a food processor, pulse together jalapeño, ginger, ¼ cup cilantro and remaining 2 cloves garlic until minced. Add lemon juice and pulse again to combine.
In a large nonstick skillet on medium-high, add chicken and cook for about 6 minutes, turning once, until lightly browned. Remove from skillet and set aside. Reduce heat to medium and add onion to skillet. Cook for about 5 minutes, until softened and lightly browned. Scrape ginger mixture from food processor into skillet with onion and cook for 2 minutes, stirring frequently.
Turn off heat and transfer onion-ginger mixture to food processor along with 1 cup diced tomatoes and broth. Blend until smooth, then return mixture to skillet. Stir in remaining 1 cup tomatoes. Bring to a simmer on medium. Return chicken to skillet, nestling in sauce. Cover, reduce heat to low and simmer for 15 minutes, or until chicken is no longer pink inside.
Add milk to the skillet. Increase heat to medium-high and simmer for 5 more minutes, until sauce has thickened slightly. Divide chicken among serving plates and top each with sauce and coconut, dividing evenly. Garnish with additional cilantro.
5. 30-Minute Coconut Curry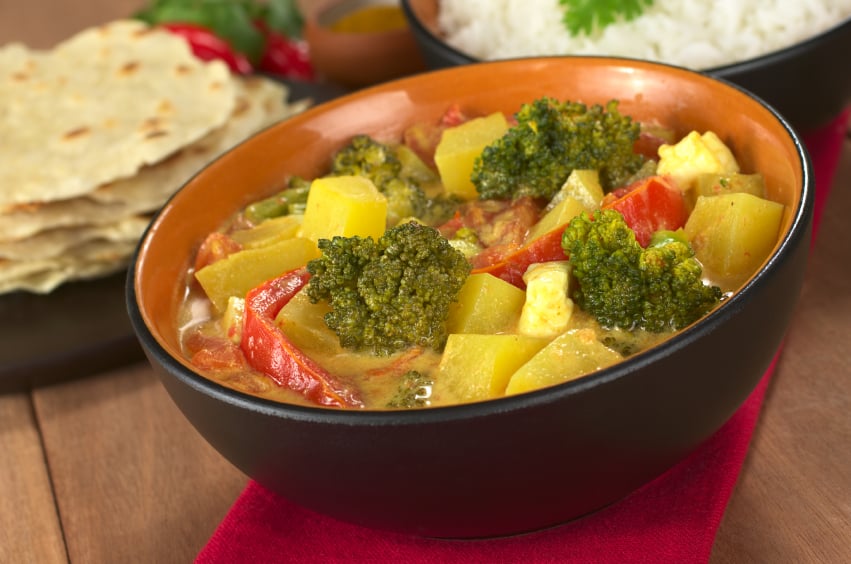 This vegan curry is quick and healthy and chock-full of veggies. This recipe from The Minimalist Baker uses broccoli, carrot, onion, snow peas, and tomato, but you could easily add or swap for bell peppers, potatoes, cauliflower, or any other vegetables that float your boat. While cooking, taste for flavor. If you feel it needs more heat, add another pinch of cayenne. If you feel it needs more warmth, add a dash of cinnamon. If it's too sweet, add some turmeric and cumin.
Ingredients:
Curry
1 tablespoon coconut or olive oil
1 small onion, diced
4 cloves garlic, minced
1 tablespoon fresh grated ginger
½ cup broccoli florets, diced
½ cup diced carrots
¼ cup diced tomato
⅓ cup snow peas,
1 tablespoon curry powder
Pinch cayenne or 1 dried red chili, diced
2 cans light coconut milk
1 cup vegetable stock
Sea salt and black pepper
Quinoa
1 (14-ounce) light coconut milk
1 cup quinoa, rinsed in a fine mesh strainer
1 tablespoon agave nectar, optional
Directions: If serving with coconut quinoa, begin by washing thoroughly in a fine mesh strainer. Add to a medium saucepan over medium heat and toast for 3 minutes. Add 1 can light coconut milk and ½ cup water. Bring to a boil, then reduce heat to simmer, cover and cook for 15 minutes or until the quinoa is light, fluffy and the liquid is absorbed. Set aside until serving.
In the meantime, heat a large saucepan or pot to medium heat and add 1 tablespoon coconut oil. Add the onion, garlic, ginger, carrot, broccoli and a pinch each salt and pepper and stir. Cook, stirring frequently, until softened, about 5 minutes.
Add curry powder, cayenne, veggie stock, coconut milk, another healthy pinch of salt and stir. Bring to a simmer then reduce heat slightly and continue cooking for 10 to 15 minutes.
Add the snow peas and tomatoes in the last 5 minutes so they don't overcook.
Taste and adjust seasonings as needed. Serve over coconut quinoa and garnish with fresh lemon juice and herbs.
6. Collard Greens Braised in Coconut Milk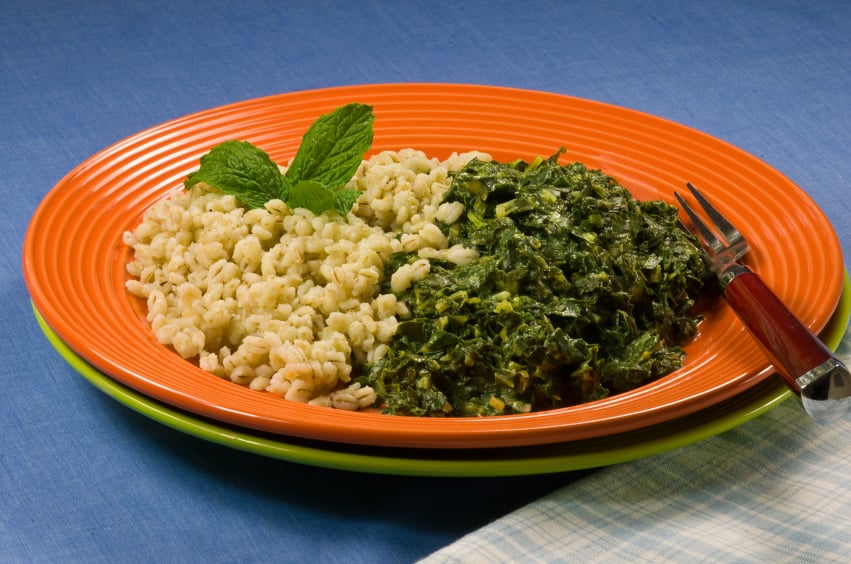 If you're only acquainted with southern-style collars, give this dish a try. In this recipe from Food52, the collards become tender, creamy, and very flavorful without dissolving into the mush state. The coconut offers a lovely lift to the greens, with a bit of added heat from the chili flakes to keep it balanced. Serve these with a bowl of rice and beans or some chili, or beside miso salmon.
Ingredients:
1 tablespoon coconut oil
1 onion, diced
1 clove garlic, minced
1 tablespoon grated ginger
1 pound collard greens, stems removed, cut into ribbons
¾ cup coconut milk
½ cup vegetable broth, plus more as needed
1 tablespoon lime juice
1 to 2 tablespoons tamari or soy sauce, to taste
Salt, to taste
Dash red chile flakes, to taste
Directions: Melt the coconut oil over medium-high heat in a large wok or skillet. Add the onion and sauté for 4 to 5 minutes, or until it's clear and soft. Add the garlic and ginger and cook, stirring frequently, for another minute.
Add the collard greens to the pan. Stir frequently for a minute or two, until the collards are just wilting.
Add the coconut milk, vegetable broth, lime juice, and 1 tablespoon of tamari to the wok or skillet and stir everything well. When the mixture is simmering, reduce the heat to low. Cook for 15 minutes, or until the greens are totally tender. If the simmering liquid starts to dry up, add a few splashes of vegetable broth as you go along.
Season the greens to taste with extra tamari, if desired, as well as salt and red chile flakes. Serve.
7. Coconut Shrimp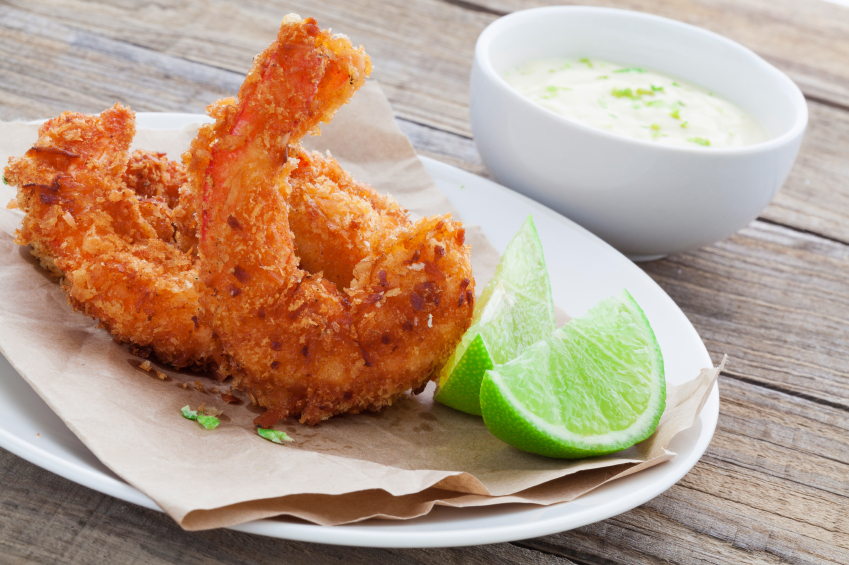 What collection of coconut recipes is complete without shrimp? The sweet succulence of shrimp and the sweet and spicy Thai chili sauce create a killer combination. These shrimp from Just One Cookbook are baked, not fried, offering a lighter alternative to the often heavy and calorie-laden favorite.
Ingredients:
1 pound shrimp, about 22-count, peeled and deveined
1 tablespoon olive oil
1 cup panko
1 cup sweetened shredded coconut
½ cup flour
1 teaspoon paprika
2 eggs
Thai sweet chili sauce to serve
Directions: Adjust an oven rack to the middle position and preheat the oven to 400 degrees Fahrenheit. Line a rimmed baking sheet with parchment paper.
Combine the panko and oil in a frying pan and toast over medium heat until golden brown, about 2 minutes.
Transfer panko into a shallow dish and allow to cool, then combine with shredded coconut. Set up the other two stations for your three-step breading by combining the flour with paprika in another shallow dish, and whisking the eggs until foamy in a third dish.
Season the shrimp with salt and pepper. Dredge each shrimp in the flour to coat completely and pat off the excess flour. Then dip into the beaten egg and finally coat with the toasted coconut mixture. Press coconut flake mixture on the shrimp to make sure they adhere.
Place shrimp in a single layer on the prepared baking sheet and bake, turning once, until coconut is golden and shrimp are cooked through, about 15 to 17 minutes. Serve with sweet chili sauce.
8. Mango Cashew Sunshine Bites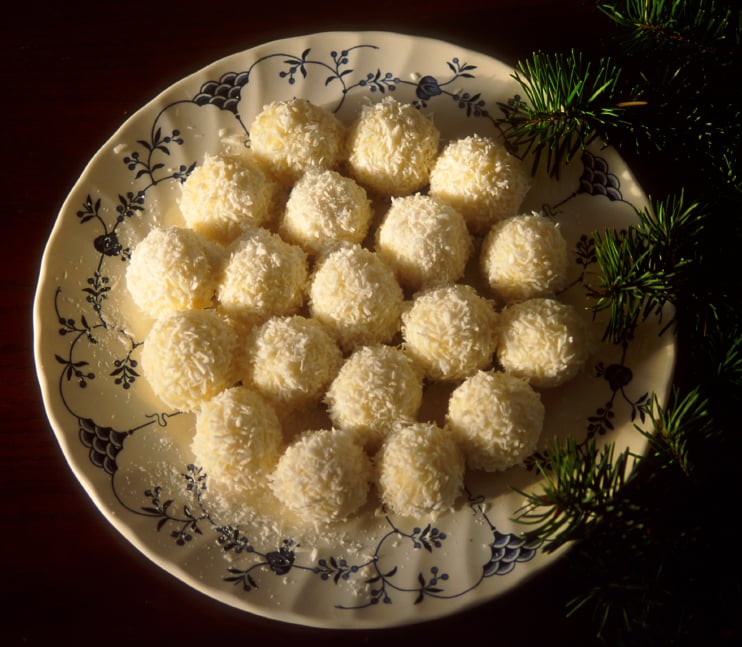 These bites from My New Roots are the perfect travel companion. Whether you're traveling by plane, train, or car — or just mentally through the pages of a good book — these bites will sustain you and a sunny mood wherever you go. They're packed with tropical flavors and energy-boosting nutrition. Make sure you find dried mango that isn't sweetened additionally or packed with sulfites.
Ingredients:
⅔ cup raw cashews
1 cup dried mango pieces
½ cup unsweetened desiccated coconut, plus more for garnish
1 to 2 teaspoons creamed honey, for sweetness if desired
Seeds of 1 vanilla bean
Lime zest
Pinch sea salt
Pinch ground turmeric
Directions: Soak cashews for at least 4 hours. Drain and rinse. Soak mango for 20 to 30 minutes until softened slightly but not mushy.
In a food processor, combine all ingredients except honey. Pulse to combine until a sticky dough is formed. Taste for sweetness and add honey if desired.
Spoon out about a ½ tablespoon amount of mixture at a time and roll into a ball with your hands. Roll in coconut to coat. Store in the fridge for up to two weeks.
9. Coconut-Almond Torte with Sabra Liqueur
Any day you're craving something sweet, make this torte from The New York Times. This easy 6-ingredient, one-layer cake is infused with orange juice and liqueur and served simply with some whipped cream and grated bitter chocolate for contrast.
Ingredients:
6 large eggs, separated
1 cup sugar
1 cup almonds, coarsely chopped
2 cups unsweetened, shredded coconut
Oil for the pan
½ cup orange juice
¼ cup Sabra liqueur, or Grand Marnier or Cointreau
Whipped cream, optional
Grated bitter chocolate for decoration
Directions: Preheat the oven to 325 degrees Fahrenheit.
In a large bowl, beat the egg whites until soft peaks form. Add ½ cup of the sugar and beat until stiff peaks form.
In a smaller bowl, beat the egg yolks with the remaining ½ cup of sugar until light and fluffy. Add the almonds and coconut and mix gently. Fold in the egg whites.
Place the cake batter into a lightly greased 10-inch springform pan and bake for 45 minutes, or until the crust is light brown on top and a toothpick comes out clean. Remove from the oven and let sit in the pan for a few minutes. Prick the top of the torte all over with a toothpick or the prongs of a fork.
Combine the orange juice and the liqueur and pour over the torte while it is still in the pan. When the torte is completely cool, remove and serve with whipped cream, if desired, and grated chocolate.
More from Culture Cheat Sheet: