Healthy Recipes for Easy Weeknight Dinners
Whether you are a pro in the kitchen or can barely muster up boiling water, it's possible to eat well at home on weeknights. These recipes are simple, because no one has time for complications when dinner needs to get on the table on a hectic Wednesday. The ingredient lists aren't terribly long or foreign; everything can be easily found in most grocery stores, so you won't spend all day tracking them down. The meals are whole and nutritious, because eating well is about putting (mostly) the right things in your body. They're also delicious, because eating well isn't only about the calorie count. It's time to start putting the frozen dinners back in the supermarket freezers. Here are eight healthy recipes for easy weeknight dinners.
1. Thai Chicken, Zucchini, and Tomato Curry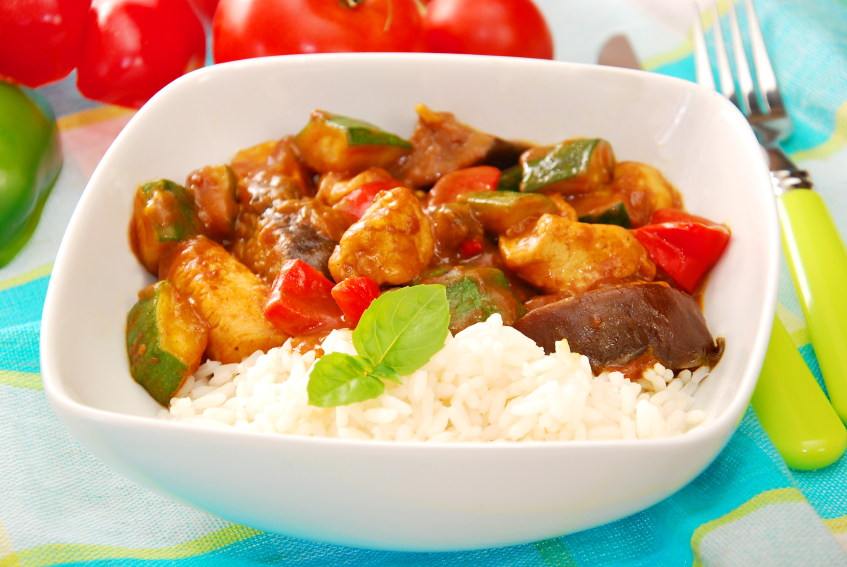 Many curries involve a lot of prep work: Chopping a lot of vegetables, layering spices, lining up cooking times. This one from Food & Wine, though, utilizes jarred Thai curry paste, available in most international aisles at most grocery stores, and the only vegetable you need to chop is zucchini (using cherry tomatoes here means they go in whole). In the 15 to 20 minutes it takes to cook rice, the curry is complete!
Slicing the chicken crosswise not only helps the ease of cutting raw chicken breasts, but also helps it stay together as you cook it quickly over high heat.
Ingredients:
3 tablespoons vegetable oil
1¼ pounds skinless, boneless chicken breasts, sliced crosswise ⅓ inch thick
Salt and freshly ground pepper
1 onion, sliced ¼ inch thick
2 zucchini (1 pound), cut into 2-by-½-inch sticks
1½ cups cherry tomatoes
1 tablespoon Thai red curry paste
½ cup unsweetened coconut milk
2 tablespoons water
Finely grated zest of 1 lime
1 tablespoon fresh lime juice
½ cup chopped cilantro
Rice, for serving
Directions: Start the rice first. Cook according to package instructions.
In a large skillet, heat 2 tablespoons of the oil. Add the chicken, season with salt and pepper and cook over high heat until just white throughout, 2 minutes. Transfer the chicken to a plate.
Add the remaining oil to the skillet. Add the onion and stir-fry over moderately high heat for 2 minutes. Add the zucchini and cherry tomatoes and stir-fry for 2 minutes. Stir in the curry paste, coconut milk, water, lime zest and lime juice and bring to a simmer. Add the chicken and stir for 20 seconds. Stir in the cilantro. Transfer to bowls and serve with rice.
2. Fish Tacos with Chipotle Mayo
These fish tacos from Damn Delicious are super flavorful, as long as you have the foresight to marinate the fish ahead in the lime juice and garlic. If you can't find chipotle paste, it can be fairly easy to find ancho powder, which is a decent substitute.
Ingredients:
Fish
1 pound tilapia fillets, cut in half lengthwise
Kosher salt and freshly ground black pepper, to taste
2 limes, juiced
4 cloves garlic, minced
2 tablespoons unsalted butter
8 taco shells
1 cup shredded red cabbage
2 avocados, halved, seeded, peeled and diced
2 Roma tomatoes, diced
2 tablespoons fresh chopped cilantro leaves
Chipotle mayo
¼ cup mayonnaise
¼ cup Greek yogurt
1 tablespoon chipotle paste
1 tablespoon freshly squeezed lime juice
2 cloves garlic, pressed
Directions: Season tilapia with salt and pepper on both sides. In a shallow bowl or zip-top bag, marinate tilapia with lime juice and garlic for at least 1 hour.
In a small bowl, whisk together mayonnaise, Greek yogurt, chipotle paste, lime juice, and garlic. Season and set aside until ready to use.
Melt butter in a large skillet over medium-high heat. Once foaming subsides, add fish and cook, flipping once, until golden on both sides, about 2 to 3 minutes per side. Remove to a plate.
Build tacos by filling tortillas with fish, cabbage, avocado, tomatoes, and cilantro. Drizzle with chipotle mayo and serve.
3. Smoky Weeknight Chili
Some chilis should be simmered on the stove for hours. Those chilis are projects, and they're often well worth it. Those chilis, however, are not weeknight chilis. Depending on how quickly you can chop a bell pepper and an onion, this deeply flavorful chili from Better Homes and Gardens can be on the table in 35 minutes.
Ingredients:
1 tablespoon vegetable oil
1 medium green sweet pepper, chopped
1 medium onion, chopped
1 (15-ounce) can chickpeas, rinsed and drained
1 (15-ounce) can great Northern beans, rinsed and drained
2 tablespoons chili powder
1 (15-ounce) can tomato sauce
1 (14.5-ounce) can fire-roasted, diced tomatoes
1 tablespoon packed brown sugar
1 tablespoon dark unsweetened cocoa powder
Optional toppings
Sour cream
Sliced green onions
Chili powder
Directions: In a large saucepan heat the oil over medium-high heat. Add sweet pepper and onion; cook and stir for 4 to 5 minutes or until tender. Add beans and chili powder; cook and stir 2 minutes. Stir in tomato sauce, undrained tomatoes, brown sugar, and cocoa powder.
Bring to boil; reduce heat. Cover and simmer 25 minutes, stirring occasionally.
Top with sour cream, green onions, and additional chili powder, if desired.
4. Weeknight Porchetta
For a stunning weeknight meal that's much easier than it looks, make this cheater's version of an Italian classic from Bon Appétit. It's not traditional, but it's really quite delicious. The total time is just under an hour, but the active time is only 10 minutes.
Ingredients:
4 garlic cloves finely chopped; plus 2 heads, halved crosswise
1 tablespoon coarsely chopped fresh rosemary, plus 4 sprigs
1 tablespoon fennel seeds, coarsely chopped
1½ teaspoons kosher salt
2 tablespoons olive oil, divided
Freshly ground black pepper
1 (1½-pound) pork tenderloin
4 slices bacon
Directions: Preheat oven to 425 degrees Fahrenheit. Toss chopped garlic, chopped rosemary, fennel seeds, salt, and 1 tablespoon of oil in a small bowl; season with pepper.
Rub garlic mixture all over tenderloin. If you can do this in the morning and let the meat rest in the refrigerator until dinner, all the better. Scatter rosemary sprigs in a large baking dish and set tenderloin on top. Wrap bacon slices around tenderloin, tucking ends underneath so bacon stays put. Nestle halved heads of garlic around tenderloin and drizzle everything with remaining 1 tablespoon of oil.
Roast until an instant-read thermometer inserted into thickest part of tenderloin registers 145 degrees Fahrenheit for medium, 40 to 45 minutes. Transfer to a cutting board and let rest at least 10 minutes before slicing.
5. Cannellini Stew with Sausage and Kale and Cheese Toasts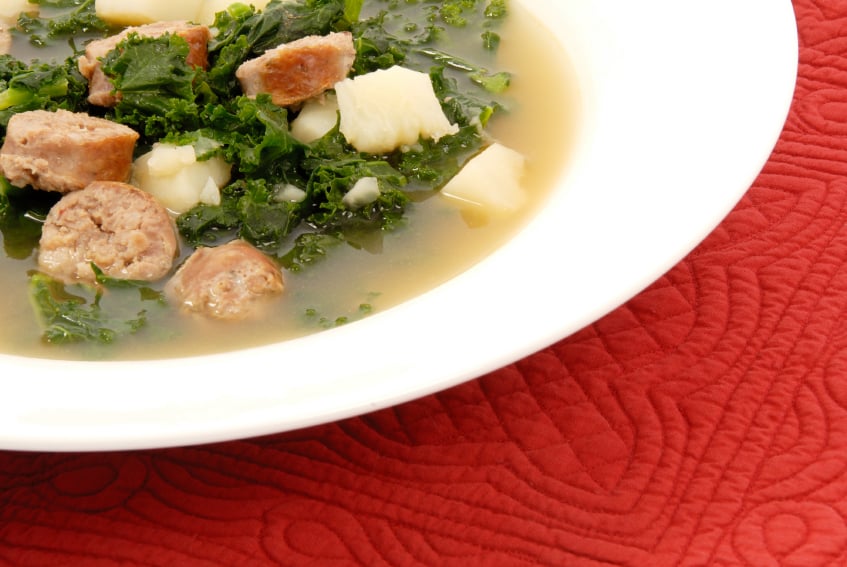 For a hearty but quick take on the Portuguese caldo verde — their national soup! — try this one from Cooking Light. It comes together in a flash, and it's very filling! Cooking Light recommends using smoked turkey and duck sausage in this recipe, but you could really customize it and use any sausage you'd like.
Ingredients:
2 teaspoons vegetable oil
1 teaspoon minced garlic
4 (2-ounce) sausages, cut into ¼-inch-thick slices
1 cup water
1 cup fat-free, less-sodium chicken broth
2 (19-ounce) cans cannellini beans or other white beans, rinsed and drained
4 cups bagged chopped kale
½ teaspoon black pepper
¼ teaspoon crushed red pepper
⅛ teaspoon salt
2 tablespoons fresh lemon juice
6 tablespoons shredded provolone cheese
6 (1-ounce) slices French bread baguette
Directions: Preheat broiler.
Heat the oil in a large saucepan over medium-high heat. Add minced garlic and sausage; sauté 1 minute. Add water, broth, and beans; bring to a boil. Stir in kale, black pepper, red pepper, and salt; bring to a boil. Cover, reduce heat, and simmer 5 minutes or until kale is tender. Remove from heat; stir in lemon juice.
While soup simmers, sprinkle 1 tablespoon of cheese over each bread slice; broil 1 minute or until cheese melts. Serve toasts with soup.
6. Sautéed  Salmon with Cilantro Vinaigrette Over Couscous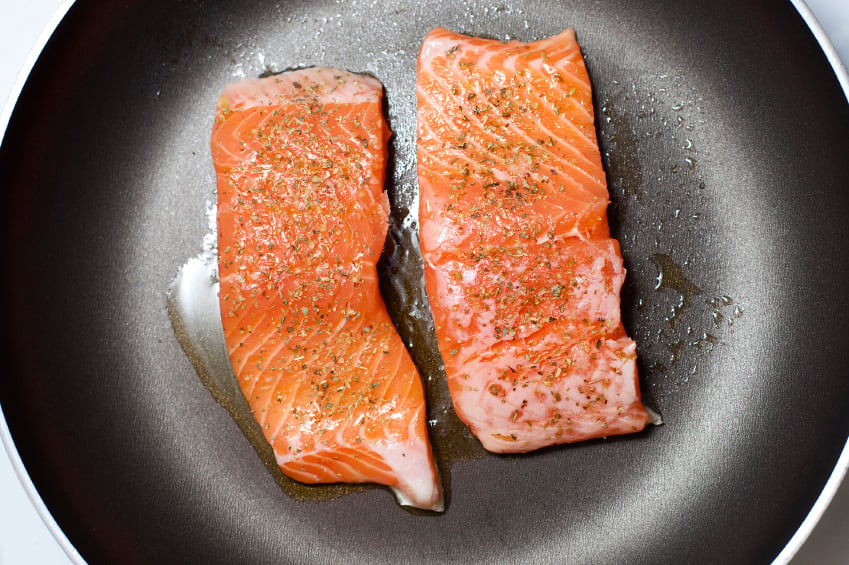 Couscous is the wonder-starch. As the tiniest pasta, it cooks incredibly quickly, using hot water and five minutes of steaming to become perfectly fluffy. This recipe from The Kitchn serves 2; if you have more forks at the table, increase accordingly.
Sumac is a Middle Eastern spice with a bright, lemony flavor that works perfectly with fish. If you can't find it, experiment with lemon zest or lemon pepper and sweet paprika.
Ingredients:
1 (10-ounce) box plain couscous
1 (10-ounce) salmon fillet, skin removed and cut in 2 pieces
½ teaspoon sumac
Salt and pepper
3 tablespoons olive oil
¼ cup cilantro, chopped
2 scallions, thinly sliced
2 tablespoons lemon juice
Directions: Cook couscous according to package directions.
Season salmon with sumac, salt, and pepper. Heat 1 tablespoon of oil in a nonstick pan over medium high heat. Add salmon and cook 3 to 4 minutes on each side.
Combine cilantro, scallions, lemon juice, and remaining 2 tablespoons of olive oil. Season with salt and pepper to taste. Serve salmon over couscous, drizzled with vinaigrette.
7. Pasta with Turkey and Broccoli
Give your pasta some extra heft, nutrients, and bite with this sauce-less meal. Skeptical of the lack of sauce on pasta? The dish from Real Simple is so well-spiced and flavorful, it doesn't need it! Orecchiette (the little bowl/ear-shaped pasta) works particularly well here, but you could substitute farfalle (bowties) if you already have it.
Ingredients:
¾ pound orecchiette
2 cups broccoli florets
3 tablespoons olive oil
1 pound ground turkey
2 cloves garlic, chopped
1 teaspoon fennel seed
½ teaspoon crushed red pepper
Kosher salt
Parmesan, for serving
Directions: Cook the pasta according to the package directions, adding the broccoli during the last minute. Drain and return the pasta and broccoli to the pot.
Meanwhile, heat 1 tablespoon of the oil in a large skillet over medium-high heat. Add the turkey, garlic, fennel seed, and red pepper and cook, breaking up the meat with a spoon, until browned, 3 to 5 minutes; season with ½ teaspoon of salt.
Toss the turkey mixture with the pasta and broccoli and the remaining 2 tablespoons of oil. Serve with Parmesan.
8. Spinach and Tomato Frittata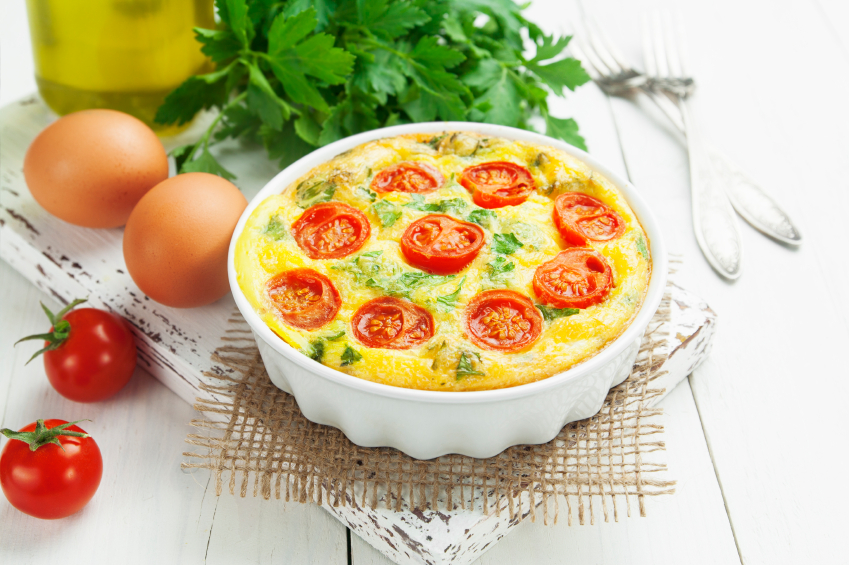 A frittata is the perfect way to end a week: You can throw anything left over into it. Have an extra bit of pepper from the chili? In it goes. More zucchini than you could put into the Thai curry? That, too. Extra cherry tomatoes? The more, the merrier. Sausage? You bet. Leftover veggies from the week before that are starting to look a little sad? Throw them into a frittata to give them new life before they're past the point of no return.
Beat some eggs in a bowl, sauté the fillings, dump the eggs in, add some cheese, and cook until just set. It's that simple. For a more intentional frittata to give you some guidance before you abandon all structure and create your own, try this spinach and tomato frittata from Food52.
Ingredients:
1 tablespoon olive oil
2 handfuls spinach, chopped
1 clove garlic, minced
8 big basil leaves
5 eggs
1 heaping cup chopped tomatoes
2 ounces shredded asiago cheese
3 ounces ricotta
Salt and pepper
Directions: Preheat oven to 375 degrees Fahrenheit.
Heat olive oil and garlic in a smallish pan over medium heat. Add the spinach and cook down until just wilted. Remove from pan and set aside.
Whisk eggs together in a big bowl. Add cooked spinach, asiago, and 5 of the basil leaves, chopped. Season with salt and pepper.
Pour mixture back into the pan on the stove. Top with tomatoes, pressing them into the mix, and the remaining chopped basil leaves. Sprinkle on clumps of ricotta.
Cook on the stove until the bottom is just set, about 3 minutes, then slide into the oven. Cook until set, about 15 minutes.