Easy Recipes You Can Prepare the Night Before
Preparing your dishes a day ahead of time can prove beneficial in many ways. Not only does this method save you time on meal day, but it can also help lock in flavors and perfect the textures of your featured dishes. Some cooks like preparing their breakfast dishes in this manner to save time during those often-hectic mornings. Others use this technique to slow-cook lunch and dinner meals, or simply to let their dishes marinate and soak for as long as possible before enjoying.
The possibilities are limitless — but to get you started, here are six of the most delicious overnight recipes that you can make in your own kitchen.
1. Ham and Egg Casserole
This casserole is an easy-to-assemble dish that can be prepared ahead of time for the next morning, making for a hot, home-cooked breakfast that doesn't require an early wake-up call to prepare. This recipe from Taste of Home yields 9 servings and takes about 10 minutes to prepare. It should be chilled 6 to 8 hours overnight, then baked for 1 hour.
Ingredients:
4 cups frozen shredded hash brown potatoes, thawed
1 cup cubed fully cooked ham
1 can (4 ounces) chopped green chilies
½ cup shredded Monterey Jack cheese
½ cup shredded cheddar cheese
6 eggs
1 can (12 ounces) evaporated milk
¼ teaspoon pepper
Salsa, optional
Directions: In a greased 8-by-8 baking dish, layer the hash browns, ham, chilies and cheeses. In a large bowl, whisk the eggs, milk and pepper; pour over the casserole. Cover and refrigerate overnight.
Remove from the refrigerator 30 minutes before baking. Bake, uncovered, at 350 degrees Fahrenheit for 1 hour or until a knife inserted near the center comes out clean. Let stand for 5 to 10 minutes. Serve with salsa if desired.
2. Tangy Kale Salad
Many kale salads recipes call for the cook to "massage" the kale leaves, a method which helps transform those tough, bitter leaves into a more manageable, tender, silky base for your salad. This recipe achieves the same effect by letting the vinaigrette-coated leaves soak overnight, creating an irresistibly flavorful and tender starter for tomorrow's lunch or dinner. This recipe from Women's Health takes 20 minutes to prepare and should be left to chill for about 8 hours. Recipe yields four servings.
Ingredients:
3 tablespoons champagne or other white wine vinegar
2 tablespoons finely minced shallot
1 tablespoon honey
1 tablespoon extra-virgin olive oil
1 teaspoon salt
⅛ teaspoon black pepper
2 bunches dinosaur or curly kale (about 1 pound), center ribs and stems removed, leaves sliced into thin ribbons
⅓ cup pomegranate seeds
¼ cup grated pecorino romano cheese
2 tablespoons toasted pine nuts
Directions: Whisk together vinegar, shallot, honey, olive oil, salt, and pepper. Toss kale in dressing to coat evenly. The dressing will seem light, but the kale will wilt down to half its volume.
Transfer kale to a lidded container and refrigerate overnight. To serve, divide kale among plates and top with pomegranate seeds, grated cheese, and pine nuts.
3. Honey Dijon Glazed Chicken
You're just five ingredients away from a new family favorite: Marinating your chicken breasts in this sweet, savory, and zesty sauce overnight packs them an incredible amount of flavor. The next day, use any leftover marinade as a sauce to cover the chicken. Serve alongside potatoes and vegetables for a delicious and healthy family dinner. This recipe from Baked Bree takes about 15 minutes to prepare, 6 t0 8 hours of marination time, and about 1 hour and 15 minutes to bake.
Ingredients:
½ cup honey
⅓ cup Dijon mustard
1 tablespoon curry powder
4 ablespoons soy sauce
4 chicken breasts
Directions: Mix together the honey, mustard, soy sauce, and curry powder. Put the chicken and marinade in a plastic bag or glass container and marinate overnight.
The next day, put the chicken and the marinade in a pan and bake in a 350 degree Fahrenheit oven for one hour covered with tin foil. Uncover the chicken and baste. Cook another 15 minutes. Slice and top with some of the remaining sauce.
4. Hearty Meatball Lasagna
Lasagna is one of the most universally beloved Italian dishes, combining soft pasta, creamy cheeses, and hearty meatballs for a delightful combination of flavors. Now this dish is easier than ever to prepare: Simply assemble the ingredients ahead of time, allowing them to settle for about 8 hours overnight. About 20 to 30 minutes before dinnertime the next day, put the lasagna in the oven to bake to perfection. This recipe from Busy Cooks takes 25 minutes to prepare and an hour and 15 minutes to bake, plus around 8 hours of chilling time.
Ingredients:
16 ounce package ricotta cheese
3 ounce package cream cheese, softened
1 egg, beaten
1 cup grated Parmesan cheese
2 cups frozen cut leaf spinach, thawed, well drained
1 pound frozen meatballs
2 (28-ounce) jars spaghetti sauce
1 cup water
3 cups grated Mozzarella cheese
8 uncooked lasagna noodles
1 cup grated Parmesan cheese
Directions: In medium bowl, combine ricotta cheese, cream cheese, egg, and 1 cup Parmesan cheese. Beat until blended. Stir in thawed spinach.
Bake meatballs according to package directions. Remove from oven and coarsely chop.
In 13-by-9 glass baking dish, pour 1 cup spaghetti sauce. Layer four lasagna noodles over sauce. Top with half of the ricotta mixture, then half of the cooked, chopped meatballs. Pour half of the water over. Sprinkle with half of the Mozzarella cheese. Top with half of remaining spaghetti sauce. Repeat layers, ending with spaghetti sauce. Top with 1 cup Parmesan cheese.
Cover tightly with foil and refrigerate at least 8 hours, or overnight. When ready to eat, place in preheated 375-degree Fahrenheit oven. Bake for 1 hour, or until lasagna noodles are tender when pierced with fork. Uncover and bake 10-15 minutes longer until bubbly. Remove from oven and let stand 10 minutes before serving.
5. Jamie Oliver's Overnight Slow-Roasted Pork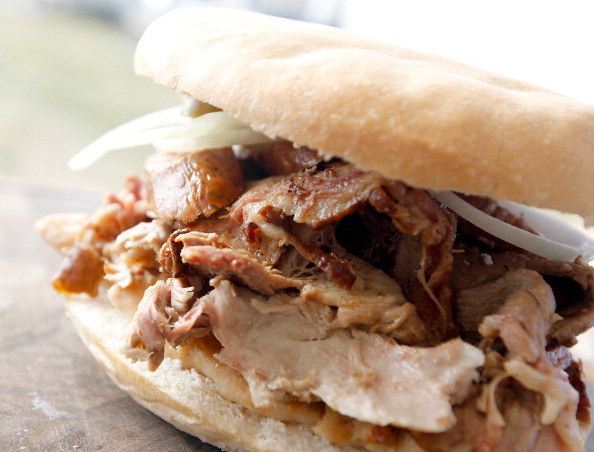 Slow-cooking is one of this celebrity chef's biggest kitchen secrets. As Oliver tells House Beautiful, "Pork that's cooked this way gives you the most meltingly tender meat." Achieve the same results at home by preparing this pork shoulder with an expert blend of seasonings, then cooking overnight at a low temperature. This recipe from House Beautiful takes about 40 minutes of preparation, plus 9 to 12 hours in the oven. Let sit for 30 minutes upon removal.
Ingredients:
2 tablespoons fennel seeds
1 tablespoon sea or rock salt
2 fennel bulbs, trimmed and roughly chopped
4 medium carrots, peeled and roughly chopped
3 onions peeled and roughly chopped
1 bulb of garlic, cloves unpeeled and roughly smashed
Bunch of fresh thyme
1 (11–13 pound) piece of pork shoulder on the bone, skin scored

Olive oil
750 milliliter bottle of white wine
1 pint chicken or vegetable stock
Directions: Preheat your oven to 450 degrees Fahrenheit. Smash the fennel seeds with the salt in a pestle and mortar until fine. Put the roughly chopped vegetables, garlic, and thyme sprigs into a large roasting pan.
Pat the pork shoulder with olive oil and sit it on top of the vegetables. Now massage all the smashed fennel seeds into the skin of the pork, making sure you push them right into all the scores to maximize the flavor.
Put the pork in your preheated oven for 20 to 30 minutes or until it's beginning to color, then turn your oven down to 250 degrees Fahrenheit and cook the pork for 9 to 12 hours, until the meat is soft and sticky and you can pull it apart easily with a fork.
Tip all the wine into the roasting tray and let it cook for another hour to give you a perfect sauce.
Once the pork is out of the oven, let it rest for half an hour before removing it to a large board. I like to brush off any excess salt from the meat, then I mash up the vegetables in the pan using a potato masher. Add the stock to the roasting pan, put it on the heat and boil until you have a lovely intensely flavored gravy (you can thicken it with a little sieved flour if you like, but I prefer mine light). The pork is great served with some good cranberry beans, braised greens, your roast veg mash and tasty sauce.
6. Irresistible Cinnamon Rolls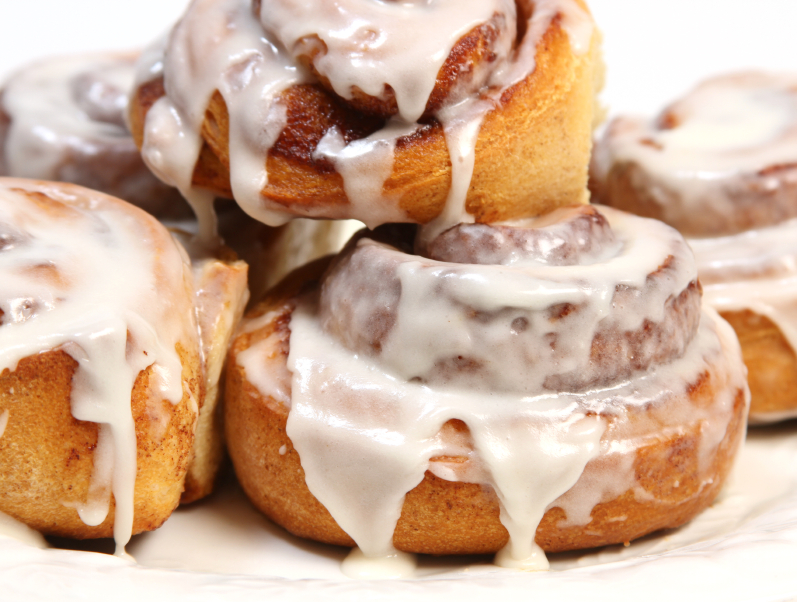 There is nothing quite like waking up, popping an already-prepared cinnamon bun in the oven, and waiting in anticipation for the tasty treats to bake through as your sip your morning coffee. These amazingly flaky, soft cinnamon rolls are perfectly prepared with cinnamon and brown sugar, then topped with a mouthwateringly sweet cream cheese icing. This recipe from Alton Brown of the Food Network takes about 45 minutes to prepare, plus 10½ hours of chill time and 30 minutes of baking time.
Ingredients:
Dough:
4 large egg yolks, room temperature
1 large whole egg, room temperature
2 ounces sugar, approximately ¼ cup
3 ounces unsalted butter, melted, approximately 6 tablespoons
6 ounces buttermilk, room temperature
20 ounces all-purpose flour, approximately 4 cups, plus additional for dusting
1 package instant dry yeast, approximately 2¼ teaspoons
1¼ teaspoons kosher salt
Vegetable oil or cooking spray
Filling:
8 ounces light brown sugar, approximately 1 cup packed
1 tablespoon ground cinnamon
Pinch salt
¾ ounce unsalted butter, melted, approximately 1 ½ tablespoons
Icing:
2½ ounces cream cheese, softened, approximately ¼ cup
3 tablespoons milk
5½ ounces powdered sugar, approximately 1½ cups
Directions: For the dough: in the bowl of a stand mixer with the whisk attachment, whisk the egg yolks, whole egg, sugar, butter, and buttermilk. Add approximately 2 cups of the flour along with the yeast and salt; whisk until moistened and combined. Remove the whisk attachment and replace with a dough hook. Add all but ¾ cup of the remaining flour and knead on low speed for 5 minutes. Check the consistency of the dough, add more flour if necessary; the dough should feel soft and moist but not sticky. Knead on low speed 5 minutes more or until the dough clears the sides of the bowl. Turn the dough out onto a lightly floured work surface; knead by hand about 30 seconds. Lightly oil a large bowl. Transfer the dough to the bowl, lightly oil the top of the dough, cover and let double in volume, 2 to 2 ½ hours.
For the filling: Combine the brown sugar, cinnamon and salt in a medium bowl. Mix until well incorporated. Set aside until ready to use.
Butter a 9-by-13 glass baking dish. Turn the dough out onto a lightly floured work surface. Gently shape the dough into a rectangle with the long side nearest you. Roll into an 18-by-12 rectangle. Brush the dough with the ¾ ounce of melted butter, leaving ½-inch border along the top edge. Sprinkle the filling mixture over the dough, leaving a ¾ inch border along the top edge; gently press the filling into the dough. Beginning with the long edge nearest you, roll the dough into a tight cylinder. Firmly pinch the seam to seal and roll the cylinder seam side down. Very gently squeeze the cylinder to create even thickness. Using a serrated knife, slice the cylinder into 1 ½-inch rolls; yielding 12 rolls. Arrange rolls cut side down in the baking dish; cover tightly with plastic wrap and store in the refrigerator overnight or up to 16 hours.
Remove the rolls from the refrigerator and place in an oven that is turned off. Fill a shallow pan ⅔ full of boiling water and set on the rack below the rolls. Close the oven door and let the rolls rise until they look slightly puffy; approximately 30 minutes. Remove the rolls and the shallow pan of water from the oven.
Preheat the oven to 350 degrees Fahrenheit. When the oven is ready, place the rolls on the middle rack and bake until golden brown, or until the internal temperature reaches 190 degrees Fahrenheit on an instant-read thermometer, approximately 30 minutes. Let rolls cool slightly.
For the icing: Whisk the cream cheese in the bowl of a stand mixer until creamy. Add the milk and whisk until combined. Sift in the powdered sugar, and whisk until smooth. Spread over the rolls and serve immediately.
More from Culture Cheat Sheet: