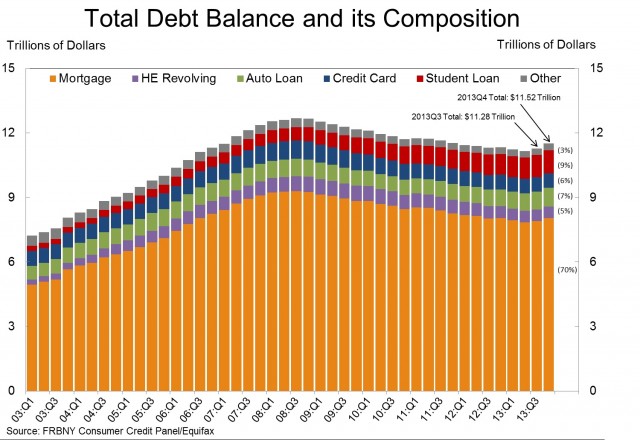 All of us have it at one time or another, and we also want to get rid of it. No, it's not a cold – it's debt. As of the end of 2013, the Federal Reserve Bank of New York reports consumers have a combined total of $11.52 trillion in debt. This is more than 2 percent higher than the year before. However, we are slightly less indebted than we were in the third quarter of 2008, when total consumer debt hit a peak of $12.68 trillion.
Most of our debt stems from home mortgage payments, and the outstanding bill for those home loans is around $8 trillion. This accounts for loans on all homes, from the $80,000 rancher to the $5 million waterfront mansion. Our student loans account for a portion of our total debt bill, as well. At over $1 trillion, education loans are about 10 percent of the total debt bill. The remainder of our debt stems from sources like auto loans, credit cards, and delinquent accounts.
Debt is not just something we possess; it's a burden many of us have trouble repaying. An increasing number of people are having trouble paying their education loans. As of late 2013, more than one out of 10 borrowers (11.5 percent) were at least 90 days past due on student loans, and the 90-plus day delinquency rate on credit cards also increased from 2012 to 2013.
Considering debt is obviously a concern for the vast majority of consumers, most people have a general idea of what to do to get out of debt. Most of us know to organize the budget and repay the highest-interest debts first. On the same token, just as some decisions are productive and effective in regards to getting out of debt, some choices have the exact opposite effect. This list of foolish ways to handle debt uses information from a How Life Works article and supplemental information from other reports.