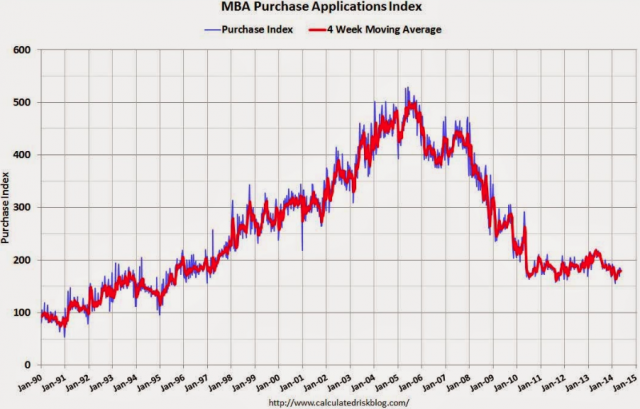 Despite the mortgage market posting three consecutive weekly gains earlier this month, lower interest rates failed to keep the momentum in place. In the latest update from the Mortgage Bankers Association, for the week ended May 23, applications for home loans declined 1.2 percent on a seasonally adjusted basis from one week earlier. On an unadjusted basis, the index fell 2 percent.
The Refinance Index, which posted a 4 percent jump in the previous week, declined 1 percent in the latest report. The seasonally adjusted Purchase Index also fell 1 percent. In fact, the unadjusted Purchase Index decreased 2 percent and was 15 percent lower than the same week one year earlier. As the chart above shows, applications have struggled to gain momentum for a sustained period since the housing bubble collapsed.
Overall, the refinance share of mortgage activity accounted for 52 percent of total applications, unchanged from a week earlier. It has been a rare occurrence to see the refinance share of mortgage activity gain ground. Refinancing has dropped for 12 of the past 16 weeks.