Here's your Cheat Sheet to this week's top mergers and acquisition news:
ConocoPhillips (NYSE:COP): Current price $57.44
Oando Energy Resources, which is concentrated upon Nigeria, faces a funding shortfall as it tries to conclude a planned $1.79 billion purchase of ConocoPhillips's Nigerian assets, according to a financial statement on the company's website. International majors, such as Royal Dutch Shell and Total, have in recent years attempted to divest off some of their older Nigerian assets, with ambitious local players proving to be eager buyers. Grabbing ConocoPhillips's Nigerian fields in December seemed to be a major play for Oando, the Toronto-listed subsidiary of a Nigerian energy company, but borrowing more money to finance the deal might negatively impact its finances, it warned, putting a damper on its ability to see through the purchase. Oando has already raised several loans to fund a $435 million deposit to the energy giant and reported that it plans to issue a mix of shares and debt to complete the takeover, even as its accounts indicated it lost $284 million in 2012.
Are these stocks a buy or sell? Let us help you decide. Check out our Stock Picker Newsletter now.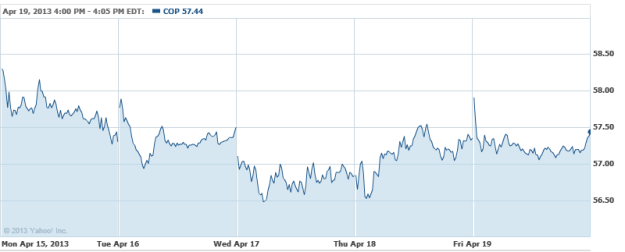 DISH Network (NASDAQ: DISH): Current price $38.99
It was reported on Friday afternoon that Chief Executive Charlie Ergen might have informally approached Deutsche Telekom in regards to a possible merger with T-Mobile USA. The proposal was made sometime before April 10, the day Deutsche Telekom sweetened its offer for MetroPCS (NYSE:PCS). For a while, Ergen has attempted to get DISH in the wireless game, aiming to work with Sprint on previous occasions and also trying to get FCC approval of certain spectrum bands which could carry wireless signals. For its part, Deutsche Telekom replied that it might consider DISH's proposal after T-Mobile/MetroPCS deal closes and also affirming that a separate deal with Sprint can not be done.
Are these stocks a buy or sell? Let us help you decide. Check out our Stock Picker Newsletter now.