Here's your Cheat Sheet to this week's top tech industry business headlines:
Microsoft Corporation (NASDAQ:MSFT): Current price $28.61
An early build of Windows Blue, which will be the next version of Windows, has been leaked online: Build 9364, a partner version that was first compiled on March 15, has been made available on file sharing sites and includes some of the new modifications that Microsoft is building into its significant Windows 8 update. Leaked screenshots posted at Winforum indicate that the firm is bringing smaller tile arrangements and even a larger desktop one to its Start Screen, as well as greater control over the color personalization options, and much more. Microsoft is building in additional Snap Views into Windows Blue, permitting users to place applications side-by-side in the Windows 8 view. The new 50 / 50 view is similar to the desktop mode snapping, but as many as four snapped applications are supported alongside each other.
The European Commission has received a complaint about Microsoft from a Spanish association representing open-source software users, marking a new challenge to the Windows developer subsequent to a sizable fine earlier in March. The 8,000 member Hispalinux, which represents users and developers of the Linux operating system in Spain, said that Microsoft had made it hard for users of computers sold with its Windows 8 platform to transfer to Linux or other operating systems. Neither Microsoft nor Commission officials were available for comment.
Are these stocks a buy or sell? Let us help you decide. Check out our Stock Picker Newsletter now.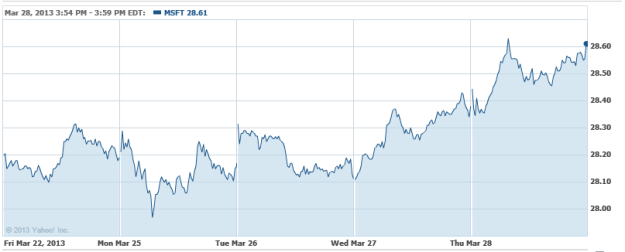 Barnes & Noble (NYSE:BKS): Current price $16.46
In a heightened effort to sell its flagship NOOK HD+ tablet, the company is ready to throw in a NOOK Simple Touch e-reader for free. Barnes & Noble seems to realize that its chances for success are deteriorating quite rapidly, as e-reader sales start to stall out against fully-featured tablets like the iPad and Nexus lines, and Amazon's Kindle range sails right along. The NOOK HD+ was intended to be the firm's silver bullet, offering a full HD, 1920×1280 display and access to multimedia content such as music, films and games, being an assertive response to the Kindle Fire HD. In any case, President of Digital Products at NOOK Media Jamie Iannone, said the offer has been formed to help consumers "fully experience all that the expansive NOOK Store of more than 3 million titles has to offer."
Are these stocks a buy or sell? Let us help you decide. Check out our Stock Picker Newsletter now.