Here's your Cheat Sheet to this week's top financial industry business headlines:
Morgan Stanley (NYSE:MS): Current price $23.62
Knowledgeable sources say that Morgan Stanley is in advanced negotiations with Gary Kaminsky for him to become the vice chairman of its brokerage department, which is a crucial position created to advance coordination between brokers and investment bankers at the firm. Kaminsky is a former high-profile money manager and currently the capital markets editor for CNBC. He is expected to be officially offered the job at any time by brokerage chief Greg Fleming. It is thought that the deal has yet to be closed, but the company might make the announcement Tuesday morning.
Are these stocks a buy or sell? Let us help you decide. Check out our Stock Picker Newsletter now.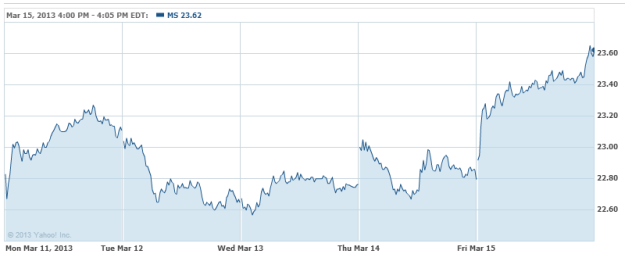 Bank of America Corporation (NYSE:BAC): Current price $12.58
After about five years at BofA as the chief of creating derivative investments for extremely affluent clients at Merrill Lynch, Raphael Zagury has announced his resignation. Zagury joined the company from Goldman Sachs, employed by Safra National Bank of New York prior to that. At Merrill Lynch, he was charged with creating customized derivatives for the firm's ultra high-net-worth clients, which usually means those with in excess of $10 million to invest, according to its website. Zagury confirmed his departure but declined to comment upon the circumstances.
According to a knowledgeable source on Thursday, BofA Merrill Lynch has recruited Nomura Holdings Australian chief of mergers and acquisitions Grant Chamberlain, who is based in Sydney. Chamberlain will join the firm as its head of mergers and acquisitions following a period of gardening leave. Before joining Nomura in 2010, Chamberlain spent 12 years at Deutsche Bank, where he rose to managing director.
A proposal originating in the Federal Reserve Bank of Dallas to place a limit on government support for banks could force BofA and JPMorgan to reduce their domestic consumer and commercial-lending divisions by more than half, according to Bloomberg.
Bank of America announced it will buy back as much as $5 billion in common stock and redeem around $5.5 billion in preferred stock, subsequent to winning Federal Reserve approval on Thursday for its capital plan. However, the Charlotte bank said that its quarterly dividend will remain at one cent, at which level it has been since the aftermath of the financial crisis. The Fed decision permits Bank of America to return capital to shareholders and was part of a wider examination of the capital plans of 18 of the nation's biggest banks. The Fed approved the plans of 14 of them, including Wells Fargo & Co. (NYSE:WFC).
Are these stocks a buy or sell? Let us help you decide. Check out our Stock Picker Newsletter now.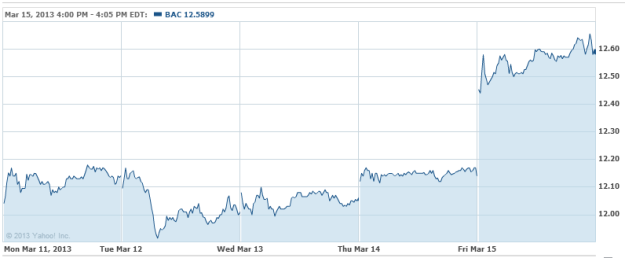 China Life Insurance Company Limited (NYSE:LFC): Current price $42.53
Shares resumed trading in Hong Kong on Monday after a halt earlier in the day resulting from comments made by ChairmanYang Mingsheng, concerning the likelihood that his firm's profits would improve in 2013. Afterwards, China Life responding in a filing on the Hong Kong Stock Exchange that Yang's remarks were strictly his own opinion and should not be construed as an earnings forecast.
Are these stocks a buy or sell? Let us help you decide. Check out our Stock Picker Newsletter now.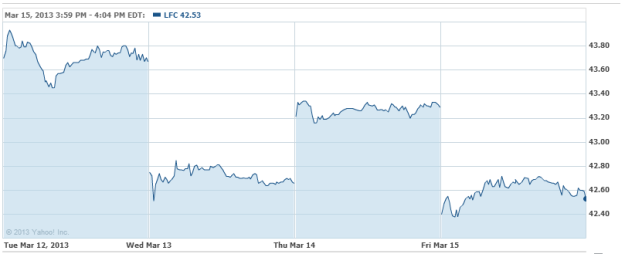 Goldman Sachs Group (NYSE:GS): Current price $154.99
In 2o12, Wall Street commodity revenues dropped to their lowest levels on record, while tighter regulation and limited price swings pressed the once dominant traders Goldman Sachs, JPMorgan Chase (NYSE:JPM), and Morgan Stanley. All three posted double-digit percentage declines in revenues for oil, grains, and copper trading last year, according to Reuters. 
Chief Executive Lloyd Blankfein is once again aiming at rival Morgan Stanley's prized talent, after the latter deferred pay, including their cash bonuses, over three years for its senior bankers. Goldman recently recruited the 13-year Morgan Stanley veteran Kate Richdale to be chief of its Asia Pacific investment banking division, and sources say that the game is ongoing, as the Wall Street bank is presently in selective talks with other Morgan Stanley bankers and has also enticed a handful of traders from that bank.
For the first time ever outside of the New York metropolitan area, Goldman Sachs will hold its annual meeting in Salt Lake City this year. Chief Executive Lloyd Blankfein said in a statement to Reuters, "We're delighted to hold our annual shareholder meeting in what has become our second-largest office in the U.S." Goldman's Utah operation is one of its biggest, with 1,500 employees. Also, it is also one of the few locations where the company has kept on hiring employees during broader staff cuts in the past few years, in part due to an agreement with the state to push job growth in return for tax cuts.
The firm's metals trader, David Freeland, has exited the investment bank just over a year after being employed to build its physical copper book in London, according to market sources, who said that his departure is the surest sign thus far that the bank is struggling to move into the capital-intensive and highly risky business that was perfected by commodity merchants Glencore and Trafigura. A Goldman spokeswoman in London would not comment on Freedland's exit.
Are these stocks a buy or sell? Let us help you decide. Check out our Stock Picker Newsletter now.