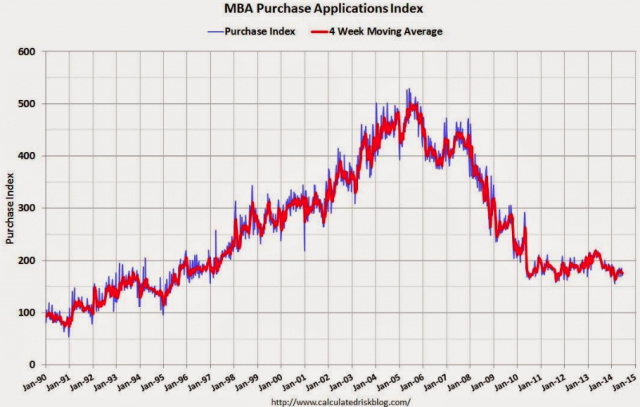 Several areas of the housing market have shown improvement in recent months after a slow start to the year, but the mortgage market is still struggling to attract homebuyers. According to the Mortgage Bankers Association's latest update, for the week ended June 27, applications for home loans dipped 0.20 percent on a seasonally adjusted basis from one week earlier. On an unadjusted basis, the index fell 1 percent.
The Refinance Index, which has declined 14 percent over the past two weeks, only managed to increase 0.1 percent. The seasonally adjusted Purchase Index decreased 1 percent. The unadjusted Purchase Index also declined 1 percent and was 16 percent below the same week a year earlier. As the chart above shows, applications have struggled to gain momentum for a sustained period since the housing bubble collapsed.
Overall, the refinance share of mortgage activity accounted for 53 percent of total applications, up from 52 percent a week earlier. It has been a rare occurrence to see the refinance share of mortgage activity gain ground. Refinancing has dropped for 13 of the past 21 weeks.