The midterm elections combined with rumors about who will or won't run in the 2016 presidential election — Jeb Bush? Hillary Clinton? — have us all distracted. Let's not forget that gubernatorial races are upcoming as well, with thirty-six elections taking place in 2014.
FiveThirtyEight shows that early polling tends to be pretty accurate in terms of its predictive capabilities on party outcome — using consideration of data on gubernatorial polls since 2006, looking at eighty-four election races, to show that prediction for races had a mere 7 percentage point error on average. The error rate tends to go down the closer polling is to the election; the polling error for the end of the 2012 campaign period was 4.4 percentage points, for example.
The polling for this year's races showed that there likely won't be any major shifts in party lead, saying that polling currently points to a continued 29 to 21 governorship split in favor of Republicans. Even if some of the tighter races win out, the chips aren't likely to fall to far from where they already lie, according to FiveThirtyEight. The data-based publication shows that Connecticut and Florida poll as the two most neck and neck races, as shown it its table below.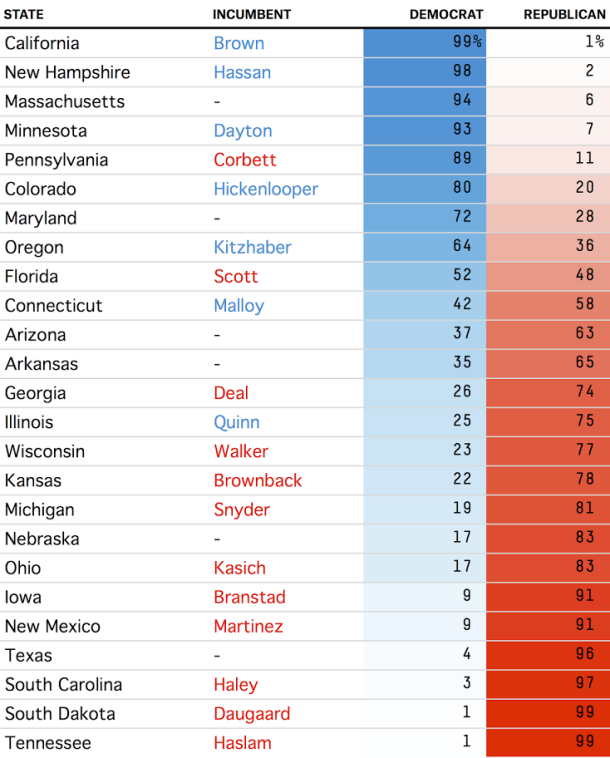 Still, other factors — and select polls — suggest that some state races could end up being considerably closer than the table suggests. Let's take a look at five of the closest.