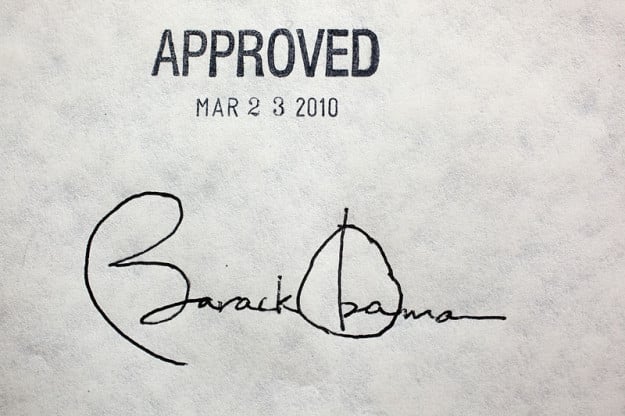 Several thousand interviews conducted by Gallup between May 21 and 25 revealed that "as of yet, there is no sign that Americans think the new healthcare law is having a net positive effect on their healthcare situations." The majority of Americans reported that the Affordable Care Act has done little to change their "personal situations" since the research firm first started asking the question in 2012.
But still, since the reform's cornerstone provision — the online insurance marketplaces — launched last October, public sentiment has gradually grown stronger. The number of respondents who say the law has had a positive effect, 14 percent, is within one percentage point of a record high. Yet, public opinion has turned increasingly negative as well; those Americans who say the law has had a harmful effect, 24 percent, is also within one point of being the highest negative measure recorded. And predictably, public opinion is guided by political affiliation and insurance status. Overwhelmingly, Democrats, those Americans earning less than $24,000 annually, and the newly insured support the law.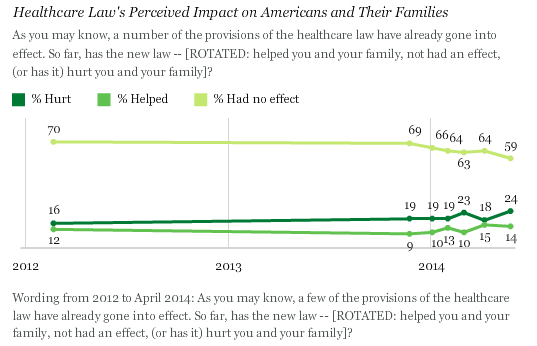 This data both shows how politically charged the Affordable Care Act remains and suggests that the Republican-lead movement to repeal, defund, or otherwise dismantle the health care reform law may still have some political capital.
It has been argued — and soundly — that repeal appears to be an untenable position for the Republican party. The future of the Affordable Care Act is stabilizing; President Barack Obama knows it, and Republicans facing reelection or challenging Democrat incumbents in November's midterm congressional elections are beginning to realize it as well. After all, with 8 million Americans enrolled in individual insurance plans purchased through the Obamacare exchanges, about 4.8 million people signed up for Medicaid thanks to the reform's optional expansion of eligibility, and the 3 million young people newly covered by their families' plans, the health care reform would be no easy matter to unravel. But even while the foundations of Obamacare stabilize and the reforms becomes more closely intertwined with society, the fact that the public opinion remains far from positive could potentially impact further progress with implementation. Not only will Gallup's data likely inject renewed vigor to those Obamacare critics arguing that the law was thrust upon an uninterested American public, an argument Louisiana Gov. Bobby Jindal made in a recent exposition on why the health care reform law can and should be repealed.