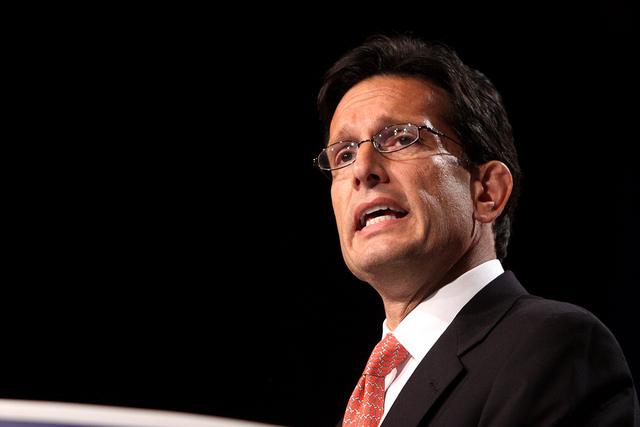 Come 2015, Eric Cantor will no longer represent the 7th district of Virginia. A Tuesday loss to Dave Brat, a little-known and poorly-funded Tea Party challenger, in the Republican primaries has ended his fourteen years in the House of Representatives. Cantor's defeat is an epic loss by historical standards; he is the first sitting House Majority Leader to lose his party's primary since the position was created in 1899, according to the University of Minnesota's Smart Politics blog. It was also not a narrow election, Cantor won 44.45 percent of the vote to Brat's 55.55 percent. By comparison, two years ago, Cantor won 80 percent of the vote.
Unlike the congressional elections in 2012 and 2010, political analysts predicted that establishment Republican incumbents would not be in danger of losing their seats to Tea Party challengers. And in the early days of this year's primary season, it did appear that the establishment wing of the Republican Party had taken significant strides toward neutralizing the Tea Party faction, putting the party closer to winning enough seats in November's midterms to gain the Senate majority. Kentucky's renomination of Mitch McConnell — the Senate Minority Leader — served to cement that assumption that in the intervening two years the Republican Party had learned how not to shoot itself in the foot.
For the first time since he was first elected in 1984 McConnell faced a well-financed Republican primary opponent. But contrary to early political analysis, which saw the senator vulnerable to a conservative challenge, his victory over businessman Matt Bevin came easy. Yet, it is important to note that McConnell did not entirely eschew the Tea Party element in his campaign; he consulted his colleague, fellow Kentucky senator, and Tea Party favorite Rand Paul and hired a campaign manager with Tea Party credentials.
But Mississippi's primary produced different signals. Party infighting was on display. Before voters went to the polls last week, political analysts saw the Mississippi election as the best opportunity for the Tea Party to edge out the Republican incumbent. But that race turned out to be tight, so tight that Tea Party candidate Chris McDaniel and incumbent Thad Cochran are heading to a June 24 runoff. And that runoff has the presented problems for the broader Republican party. The harsh campaigning that is to come has the potential to damage the image of the eventual nominee. And that could hurt the Republican party's ability to hold on to that Mississippi Senate seat.