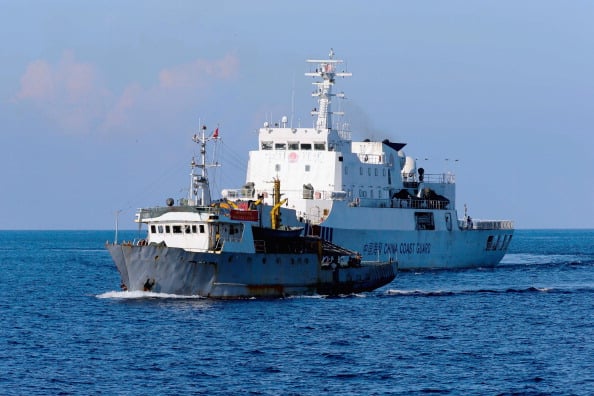 The United States and China have had a difficult year, and continued disagreement over a section of the eastern ocean may turn into the largest diplomatic difficulty yet. Earlier this year, China signed a gas deal with Russia in the face of heavy energy tensions between Russia, Europe, and the United States. The gas issue is one tied up in Russia's ongoing attempts at military and political interference in Ukraine, and Ukraine's own roll in Europe's energy market. At the time, the deal was enough to drudge up cold war memories and anxieties. Just prior to the gas deal, China and the U.S. clashed over economic cyber espionage targeting American companies. At the time, Qin Gang, Foreign Ministry spokesperson, said that, "This U.S. move, which is based on deliberately fabricated facts, grossly violates the basic norms governing international relations and jeopardizes China-U.S. cooperation and mutual trust."
Now, Political Science Professor and associate at Harvard's Center for Chinese Studies, Robert Ross, told The Washington Post that, "U.S.-China relations are worse than they have been since the normalization of relations, and East Asia today is less stable than at any time since the end of the Cold War." Indeed, Cold War comparisons have been coming with increasing ease in the news as of late. The disagreement in question deals with a stretch of small islands and cays in the eastern Asian ocean with defense advantages that China has lain claim to in conflict with Vietnam and other nearby nations.
Vietnam's government newspaper released a report saying that China had "brazenly moved the oil rig (Haiyang Shiyou-981) and a large number of ships into Vietnam's waters since early May, adversely affecting the relations between the two countries and threatening peace, stability and security in the region." Vietnam's Prime Minister Nguyễn Tấn Dũng gave a statement last Wednesday with "demands" that "China immediately withdraw the drilling rig" from Vietnam's "exclusive economic zone and continental shelf."
China, for its part, continues to claim that the islands and waters in question are legitimately within the Chinese territory. "China has the right to take archipelagos such as the Xisha Islands as an integral whole and use straight baselines to delimit its territorial sea … China also enjoys traditional fishing rights in certain areas within the exclusive zones or archipelagic waters of an adjacent state, and such rights should be recognized and respected as stipulated in the UNCLOS (United Nations Convention on the Law of the Sea)," reads an article published July 4 in the ChinaDaily, a state-owned publication. One day prior, the Chinese coast guard had reportedly detained a Vietnamese fishing boat for "conducting illegal operations in the territorial waters of China seven nautical miles to the south of Sanya of China's Hainan Island," a location North West of the Xisha Islands, also known as the Paracel Islands, as seen below.