Earlier this month a poll from Quinnipiac University placed President Barack Obama as the worst president since World War II. Now, a CNN/ORC International Poll is saying that if 2012 elections were to be re-held today, respondents would elect Mitt Romney over President Obama this time around. Obama took 44 percent of the vote, Romney 53 percent, and 3 percent would vote for neither. This is an unexciting statistic for a few reasons.
For one, it's hardly news. Quinnipiac University posed a very similar question and saw comparable results. It asked if Romney would have made a better president, and saw 45 percent saying yes, with 38 percent saying the nation would have fared worse under his leadership. While, yes, that does sting, it's not surprising that people see previous political options through rose tinted glasses while Obama — who has seen over five years worth of mud, blood, and politics — isn't as attractive an option any more. People don't like him, that's not new, and it's not even particularly unusual for a president at this juncture of his presidency, as Gallup's backlog of presidential polls shows below in a comparison of 22nd quarter approval averages.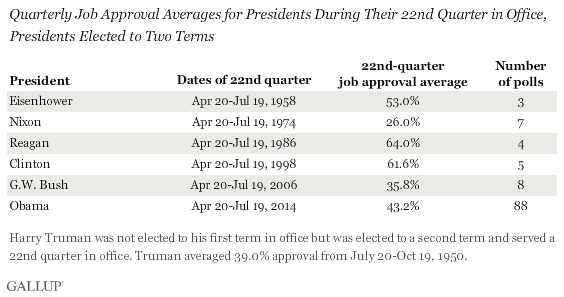 So why are Obama's approval averages still worthy of comment? They haven't seen any major slumps recently, and are mostly holding at the same low levels. The answer lies in two places. The first has to do with how his reputation is affecting the midterms, which will in turn influence the last year and some of his presidency. The second has to do with the 2016 presidential election.