It's week 16 in the NFL, which means it's the championship round for the vast majority of fantasy football leagues. If you've made it this far, you probably shouldn't be tinkering with your team anymore, but certain injuries might have you cruising the waiver wire looking for that last player who can catapult you to victory. Here are 14 waiver wire targets that should be on your fantasy radar as you look to give your fantasy team a final push.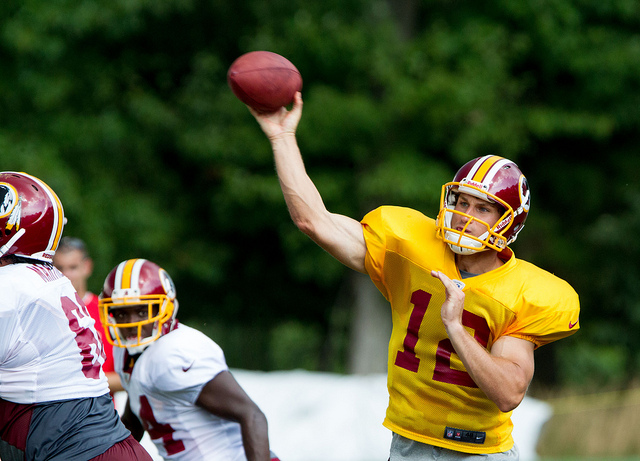 Quarterbacks
Kirk Cousins, Washington Redskins
If you're looking to pick up a quarterback for week 16, Kirk Cousins might be your best bet. Filling in for Robert Griffin III the rest of the way, Cousins threw for 381 yards and 3 touchdowns in week 15, although he did throw 2 interceptions. Additionally, Cousins and receiver Pierre Garcon seemed to pair up nicely, with the latter racking up 129 yards and 1 touchdown on 7 receptions.
If that wasn't enough, Cousins also faces a great match-up in week 16 as Washington goes up against the Dallas Cowboys, who are currently allowing the most fantasy points of any team against quarterbacks. In the last two weeks alone, Matt Flynn and Josh McCown have put up huge numbers against Dallas, but there's no doubt that Cousins still represents a sizable risk going into the championship round.
Jay Cutler, Chicago Bears
As of late Friday, Jay Cutler is owned in only 54 percent of Yahoo! fantasy leagues, which means he should probably be at the top of your list if you're looking for quarterback help. After missing four games with a high ankle sprain, Cutler returned to play in week 15 against the Cleveland Browns, throwing for 265 yards, 3 touchdowns, and 2 interceptions. This week Cutler will get a favorable match-up in the Philadelphia Eagles, who are currently allowing the fifth most points to opposing quarterbacks and saw Matt Cassel of the Minnesota Vikings throw for 382 yards and 2 touchdowns last week.
Ryan Fitzpatrick, Tennessee Titans
Owned in only 14 percent of Yahoo! fantasy leagues, it's pretty much a given that Ryan Fitzpatrick is available if the previous two quarterbacks are gone. Fitzpatrick has quietly been having a terrific season, and last week had his best game of the year, throwing for 402 yards, 4 touchdowns, and 2 interceptions against a capable Arizona Cardinals defense. In week 16, Fitzpatrick faces the Jacksonville Jaguars, who are currently allowing the third most fantasy points to opposing quarterbacks. Back in week 10, Fitzpatrick threw for 264 yards, 2 touchdowns, and zero interceptions against the Jaguars, who just narrowly eked out a 29-27 victory.