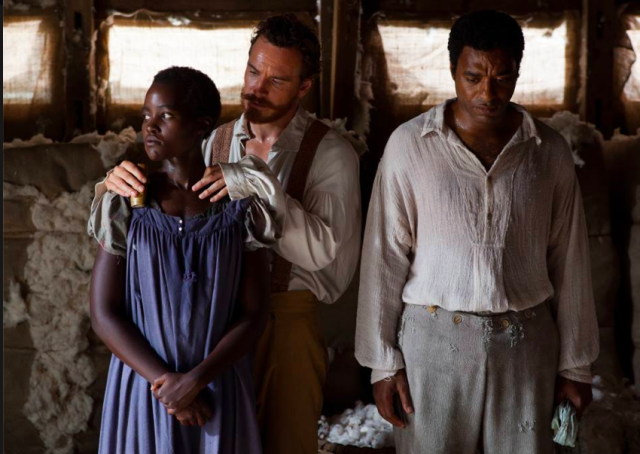 This Sunday will mark the 71st Golden Globe Awards in what has been one of the strongest years for film in recent memory. Generally considered the second most important award ceremony after the Academy Awards, the Golden Globes has been held annually since 1961 and will take place at the Beverly Hilton in Los Angeles, California. Just in time for this Sunday's Golden Globes, here is a list of predictions for all the major motion picture awards and let us know what you think will win in the comments.
Best Drama — Prediction: 12 Years a Slave
You'll be hard pressed to find a website or publication that doesn't place director Steve McQueen's historical drama 12 Years a Slave as the major front runner for Best Drama at the Golden Globes — and for good reason. Based on the 1853 autobiography of the same name by Solomon Northup about a free black man kidnapped in Washington, D.C. and sold into slavery, 12 Years a Slave is the most critically acclaimed film of the year in what has become one of the strongest years for film in recent memory. 12 Years a Slave is widely expected to take Best Drama at the Golden Globes en route to the Academy Award for Best Picture, winning a slew of other awards along the way.
Could Win: Gravity
The award for Best Drama is clearly 12 Years a Slave's to lose, but of the other nominations in the category only Gravity has a shot at upsetting the historical drama. The technical mastery of Gravity along with the box office phenomenon associated with the film was once believed to be a strong case for the film to surprise come award time, but now that the box office accomplishments are firmly in the rear view mirror, it seems more and more unlikely that Gravity will unseat 12 Years a Slave. Regardless, expect Gravity to be a solid competitor in both the Golden Globe Awards and the Academy Awards in much the same way that James Cameron's Avatar nearly overtook Kathryn Bigelow's The Hurt Locker for Best Picture at the Oscars in 2010.