If you find yourself doing some Christmas shopping for a Star Wars fan, you'll quickly find that it can be a daunting process. Ever since Star Wars: A New Hope debuted in 1977, the series has been remarkably successful in being a merchandising titan — and it's one of the biggest reasons that George Lucas' foresight to retain merchandising rights to Star Wars remains one of the greatest, if not the greatest, Hollywood contract decisions of all-time.
So, with so many options to make, where does one start when looking for gifts? Here's a list of ten items that will give you a good starting point when searching for the perfect Star Wars gift.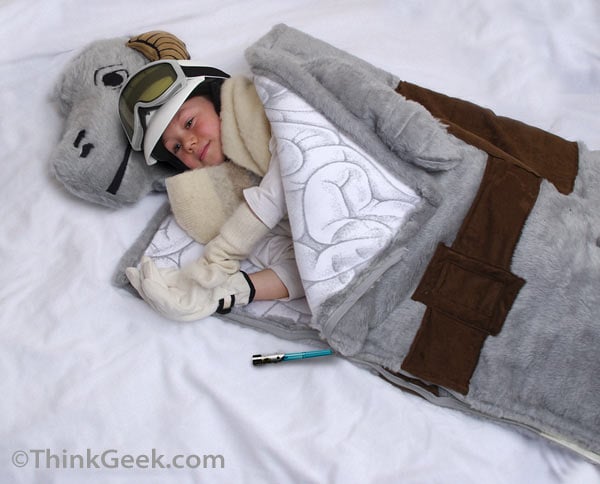 1. Star Wars Tauntaun Sleeping Bag
The Star Wars Tauntaun Sleeping Bag is perfect for all those Star Wars: The Empire Strikes Back fans who couldn't help but imagine how comfy it would be to sleep inside a tauntaun carcass. With a one-size-fits-all that can fit children and adults, the Tauntaun Sleeping Bag features an embroidered tauntaun head pillow, printed intestine patterns on the inside of the bag, and is fully machine washable. Luckily, you won't have to worry about the smell.
You can find the Star Wars Tauntaun Sleeping Bag at ThinkGeek for $149.99.