If you're looking for a Christmas gift for that family member or friend who is considered the resident movie buff, your first thought might be to cruise the aisles of the DVD and Blu-ray section at your local store.
While no movie lover will be disappointed when they unwrap one of their favorite films on Christmas day, there are plenty of unique options for shoppers looking to add some spark to their gifts. Here are 12 awesome movie-themed gifts that might give you some ideas for other unique purchases for the film buff we all know and love.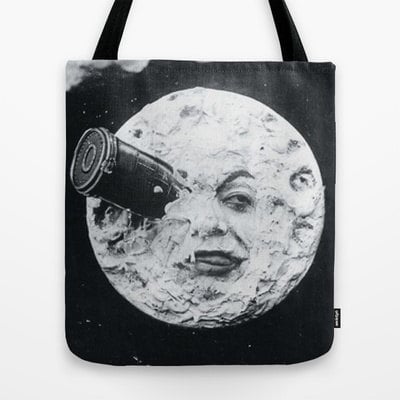 1. Trip to the Moon Tote Bag
Etsy has a ton of great, unique gifts for movie fans, but this tote bag sporting one of the most famous images from Georges Méliès' 1902 French classic A Trip to the Moon is definitely among the cooler items you can find on the website. If you're shopping for a film lover with a love of early film history, there's no doubt that he or she will get a huge kick out of this. Find it here at a price of $33.