It's that time of year again, when an official consortium of auto journalists and writers get together to determine what the best car and truck for 2014 will be. A total of 48 members make up the panel that will ultimately bestow the honor on a lucky vehicle.
"The awards — first given in 1994 — are unique in North America because — instead of being given by a single publication, web site, radio or television program — they are given by automotive journalists representing all of those outlets in two countries," the North American Car and Truck of the Year website says. The two countries are the United States and Canada.
"The awards recognize the most outstanding vehicles of the year based on factors including innovation, design, safety, handling, driver satisfaction and value for the dollar," the website reads. "To be eligible, vehicles must be 'all new' or 'substantially changed.'"
We've already covered the 12 cars up for the Car of the Year Award, but that's only half the story. Check out the 12 trucks and SUVs competing for the 2014 Truck of the Year Award.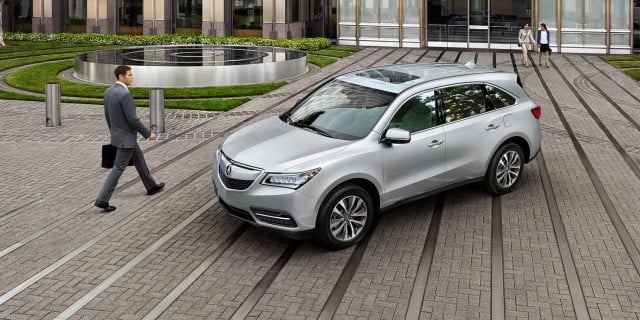 1. Acura MDX
Acura (NYSE:HMC) seems to be still fine-tuning its sedan lineup, but when it comes to utilities, Honda's luxury arm, has it down. The new MDX, which starts at around $42,000, is a tech-laden, seven-passenger coach with a 290 horsepower beating heart. Each MDX comes standard with Acura's Jewel Eye headlights, a multi-view rear camera, and 28 miles per gallon on the highway.