Market Darling No More
With Apple finding itself deserted by its bulls over the past few months, predictions for the stock market's once-darling have turned darker by consensus. But even those who choose to remain bullish on the stock in the near-term keep decreasing their targets, a fact that's worrisome. And it may only be a matter of time until those targets catch up with Apple's selling price, rather than the other way around.
According to a survey of several analysts by Fortune, the average price target for Apple's stock has fallen to $740. According to the survey, 11 of the 48 analysts polled lowered their Apple targets in the final weeks of the company's first fiscal quarter of 2013. Some of the key cuts include that by Peter Misek of Jefferies, who dropped his price target from $900 to $800, and Michael Walkley of Canaccord Genuity, who trimmed it from $800 to $750. Misek said in a note to investors earlier this month that he believed the average selling prices for smartphones had peaked.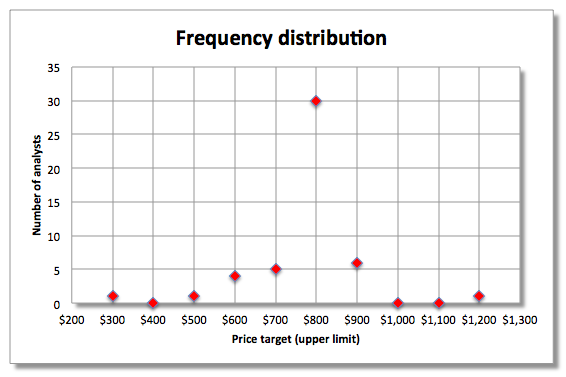 According to the analysis, 30 of the 48 analysts expect Apple to hit somewhere between $700 and $800 before the end of 2013. (Chart by Fortune)
Save time and make money with our LOWEST ADVERTISED PRICE EVER to help you achieve your financial goals in 2013. This is a LIMITED TIME OFFER, so get your Stock Picker Newsletter now!