JPMorgan Chase & Co. (NYSE:JPM) Current price $45.88
The firm's board is mulling the release of an internal report this week that faults Chief Executive Jamie Dimon's management of a division that lost more in excess of $6.2 billion on botched trades, according to knowledgeable sources. A preliminary report was released in July and the final one takes the matter farther, blaming senior managers such as Dimon, the former Chief Financial Officer Doug Braunstein, and ex-Chief Investment Officer Ina Drew for inadequately supervising traders in a United Kingdom division that built up an illiquid position in credit derivatives in 2012. Although the paper is not yet complete, it will be presented to the board on Monday and then the members vote as to whether to disclose it when the bank announces fourth-quarter results the on following day, say the sources.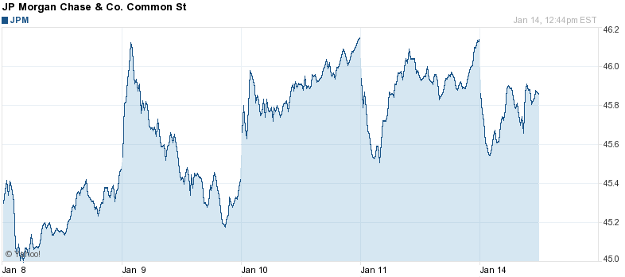 Are these stocks a buy or sell? Let us help you decide. Check out our Stock Picker Newsletter now.