Wells Fargo & Co. (NYSE:WFC): Current price $37.11
The company's request to dismiss a lawsuit brought by investors who said it failed in its role as trustee for debt issued by a financing company which went under in 2009, was turned down by United States District Judge David Carter in Santa Ana, California. In a decision filling 50 pages, the judge made the way for a possible trial against the fourth-largest U.S. bank regarding its dealings with Medical Capital Holdings. Carter also ruled outright for the investors on certain claims in the class action, and dismissed other claims against Wells Fargo.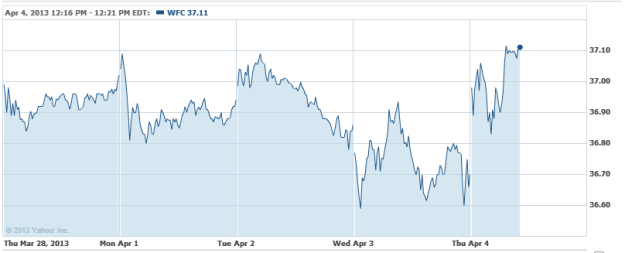 JPMorgan Chase & Co. (NYSE:JPM): Current price $47.19
J.P. Morgan saw the dismissal of almost the entirety of a lawsuit claiming that it misled the Belgian-French bank Dexia into buying over $1.6 billion worth of troubled mortgage debt. United States District Judge Jed Rakoff in Manhattan on Wednesday made public his ruling that is a victory for the largest domestic bank and Chief Executive Jamie Dimon, removing some 99 percent of the potential damages. Dexia's case gained notoriety after emails and other materials were divulged that suggested the bank and its affiliates knew the residential mortgage-backed securities they were selling were toxic, but sold them regardless. Judge Rakoff said that he would explain the reasons for his decision "in due course."
Are these stocks a buy or sell? Let us help you decide. Check out our Stock Picker Newsletter now.