Apple (NASDAQ:AAPL): Current price $448.84
Monday starts a new week for Apple, which must be both a relief and a worry to the firm that used to be the most valuable in the world (less than a week ago). On Wednesday, Apple released its fourth quarter results which some companies would kill for. Results included decent quarterly numbers along with double-digit growth in some product categories, but  revenue that was just a bit lighter than the Street had anticipated, with profits only a few cents better than had been forecast. However, even figures such as these are not what the company typically posts, and shares did quite a number during the second half of the week, falling some 11 percent late Wednesday and igniting a firestorm among observers and analysts who asked, for example, if Apple's glory days are over.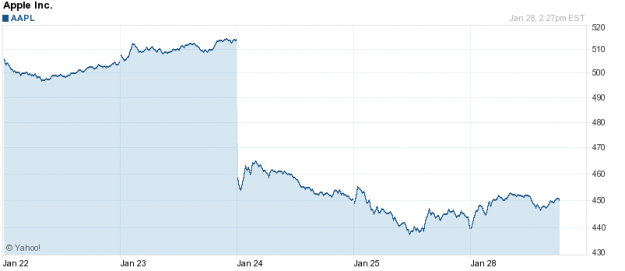 Are these stocks a buy or sell? Let us help you decide. Check out our Stock Picker Newsletter now.