"The [Green Car of the Year] award is an important part of Green Car Journal's mission to showcase environmental progress in the auto industry," the Journal said in its press release. The award, established in 1992, focuses on "the intersection of automobiles, energy, and environment."
The Journal has picked out the five finalists competing for the honors of being named the 2014 Green Car of the Year. The publication says it seeing its pool of eligible vehicles grow increasingly larger each year as automakers are able to produce better cars that use less fuel.
"The diversity of this field of finalists illustrates not only that 'green' has gone mainstream, but also that there is no single approach to achieving ever higher levels of fuel efficiency and environmental performance," said Ron Cogan, editor and publisher of Green Car Journal and CarsOfChange.com. "There's something for everyone in this year's field of finalists, including clean diesel, high efficiency gasoline, and hybrid/plug-in hybrid power featured in mainstream, sporty, and executive models."
Noticeably, no vehicles from American manufacturers made the list, and there was nothing in the press release that definitively explained why. Here are the five contestants, ranked alphabetically.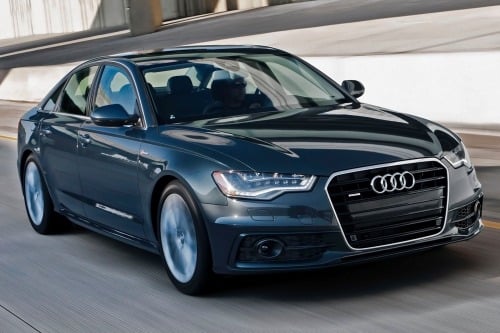 1. Audi A6 TDI
Boasting nearly 40 miles per gallon on the highway (38mpg, officially), the Audi A6 TDI "blends excellent 'green' credentials with unexpected levels of performance in a high efficiency vehicle," Green Car Journal says. The 3-liter diesel unit at its heart offers about 24mpg around town; it's also good for 428 pound-feet of torque and can reach 60 miles per hour in 5.5 seconds.