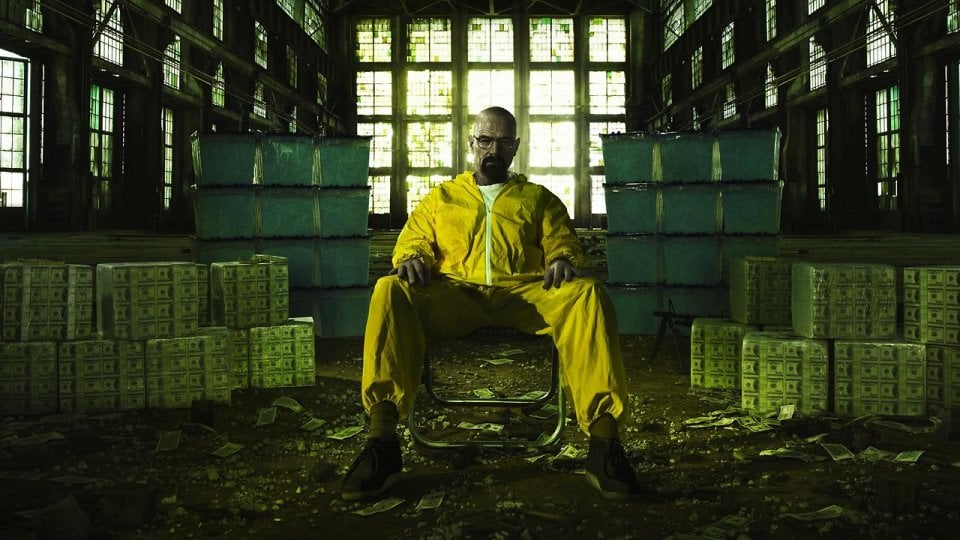 [Spoiler Alert: Only read if you have finished all seasons of AMC's Breaking Bad]

The last episode of AMC's Breaking Bad has long since aired and the show's entirety is now available for purchase and streaming, so it's as good a time as any to remember the art of the show so you can go back and appreciate some of it. One of the most impressive aspects of Breaking Bad's fifth and final season was that, before the episode aired, we still didn't know exactly where the show was going. That question became a talking point for fans everywhere because of two flash-forward opening scenes in the last season that established an older, grittier Walt (Bryan Cranston) seemingly returning to New Mexico to settle the score.
That technique — called a "cold open" — is something the Breaking Bad writers have used in the past, but none have garnered the same kind of interest as in the fifth season. A cold open, sometimes called a teaser, is the technique of jumping directly into a scene before a show's title sequence is shown; it is usually used in an attempt to immediately immerse the audience in the story before viewers might feel the need to change the channel. But for Breaking Bad, the cold open has become one of the show's most interesting and creative features.
In the last season of Breaking Bad, the flash-forward cold opens establish the direction of the series but in no way revealed enough to say for sure what would ultimately happen in the shows resolution. Even before the last two episodes aired, we only had a glimpse of where the show would likely take us.
Don't Miss: How AMC Nearly Lost Out on Breaking Bad Spin-Off
In the first of the fifth season's two flash-forwards, a year elapsed from the "current" events of the series, and a scruffy-looking Walt bought an M60 from a gun dealer. In the second of the two openings, Walt returned to his old home, which was then dilapidated and ruined, and retrieves the ricin he hid in his room behind the electrical socket. Both cold opens gave the viewers clues about where it was all going, but not enough to connect the dots — at least, not then.
Of course, if you look back at the entire series now that the show has aired its final episode, it becomes clear how much time and care the writers have given to the art of cold opens and openings in general. Here are five great opening scenes from five seasons of Breaking Bad.