All eyes were on Apple (NASDAQ:AAPL) on Monday as the company took the stage at this year's Worldwide Developers Conference in San Fransisco. During the keynote, CEO Tim Cook and his company discussed the state of Apple's mobile and traditional computing platforms, and also unveiled the newly designed iOS 7, a brand new Mac Pro desktop computer, the highly anticipated iTunes Radio streaming service, and upgrades to the MacBook Air notebooks.
Here's what the analysts had to say about the announcements.
Maynard Um, Wells Fargo (NYSE:WFC): 'The OS is what mesmerizes people longer-term'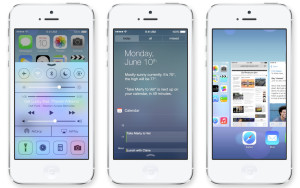 Um offers a few different takeaways from the WWDC and presents some predictions that he admits are already largely anticipated. A few important themes from the conference: "the value of owning/integrating software and hardware, leveraging iCloud for new services and integrating across devices, and design innovation is still alive."
Unsurprisingly, he focuses most of his attention on the iOS 7 preview, predicting that the software's fall availability will help facilitate the launch of the iPhone in September. Um notes that the iOS 7′s biggest change is the noticeably flatter user interface. He doesn't believe the new iTunes Radio will "serve as a standalone business model," but he does think the service will effectively complement the already attractive ecosystem.
Despite the launch of the new MacBook Air,  he predicts disappointment around the lack of MacBook Pro refresh. Ultimately, he believes "the improvements in iOS 7 should give iPhone users, and investors, a new reason to be excited about their iOS devices and subsequent new phones/tablets. "At the end of the day, we believe iPhone users get over new hardware within a few hours when updating their phones, but the OS is what mesmerizes people longer-term. The event sets the stage for new products over the next six quarters…"