Many Apple (NASDAQ:AAPL) fans and analysts would love to know what incredible devices Tim Cook & Co. have up their sleeves. Although most people aren't privy to the secret product developments that take place on Apple's Cupertino campus, regular folks can still catch a glimpse of the company's inner workings by paying close attention to the tech company's patent filings.
UBS hardware analyst Steve Milunovich has highlighted five significant patents that could signal the development of five new products from the iPhone maker. We take a look:
1. E-Wallet and Electronic Payments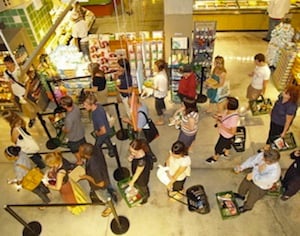 Milunovich notes that there have been many rumors suggesting that Apple's next iteration of the iPhone will feature a biometric fingerprint sensor combined with near field communication, or NFC, capability. These functions could easily lay the foundation for the iPhone's use as a convenient and secure mobile payment device. Apple's patent titled "Payment Options Based on Location" describes some of the other possibilities that an e-wallet would afford users.