Deutsche Bank (NYSE:DB): Current price $52.70
Europe's largest lender by assets, Deutsche Bank, is altering the employment relationships with its equity analysts based in Dubai by placing them on consulting contracts, so as to avert job cuts in the Middle East, say two knowledgeable sources, who specified that between three and six analysts are impacted by the decision. The analysts will forfeit some benefits, but  they will still be eligible for medical cover and a bonus, and they will continue to provide research exclusively for the bank as before.
Europe's largest bank by assets will tell its employees, probably next week, that it will impose a €300,000 company-wide cap on bonuses being paid in 2013, according to knowledgeable sources, who also said that senior staff ("regulated" employees) will receive up to  €150,000 in cash with the remainder available in shares in August. Banks on the continent are being pressed to pull back compensation and link it more closely to performance, subsequent to large cash payouts being blamed for encouraging the type of risk-taking that led to the 2008 collapse of Lehman Brothers Holdings and the financial crisis.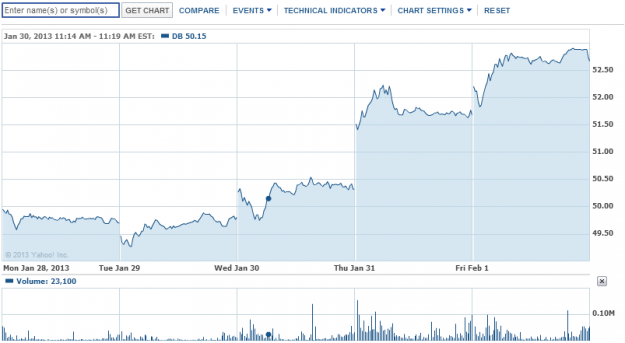 Are these stocks a buy or sell? Let us help you decide. Check out our Stock Picker Newsletter now.