Speaking to members of its developer community at the 24th annual Worldwide Developers Conference keynote on Monday, Apple (NASDAQ:AAPL) Chief Executive Officer Tim Cook said, "We want to make the best products that people use more and love more than anybody else's." But the two-hour presentation appears to have left both investors and Apple aficionados wanting. The iPhone maker managed to announce several big updates without really surprising or wowing anyone. As evidence of this, Apple's stock ended the day down $2.92, or 0.66 percent, at $438.89.
Even though the company earned more than $22 billion in net profit during the six months that ended in March, many investors worry that Apple is in an innovative funk. Apple has not produced any category-defining products since the iPad, and Google's (NASDAQ:GOOG) Android operating system is cornering more and more mobile-device market share. According to research firm Gartner, Android ran on 74 percent of global shipments in the first quarter of 2013, while Apple's iOS only accounted for 16 percent. Still, Phil Schiller, Apple's Senior Vice President of Worldwide Marketing, seemingly took a jab at the company's recent bad press. "Can't innovate anymore my ass," he said while previewing the redesigned Mac Pro.
Here is a look at some of Apple's biggest announcements from Monday:
1) The Unveiling of iOS 7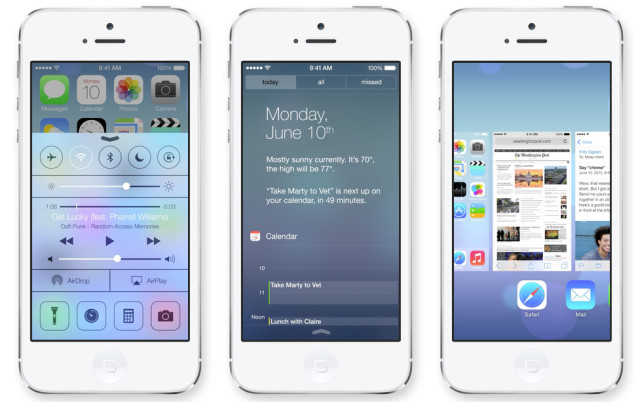 The highlight of Monday's event was the unveiling of iOS 7, which Cook said was the "biggest change to iOS since the iPhone." For the first time, the design was overseen by Jonathan Ive, Apple's Senior Vice President of Industrial Design, and included new typography, redesigned icons, and a new color palette. "I think there is a profound and enduring beauty in simplicity, in clarity, in efficiency," Ive said in a video introducing iOS 7. "True simplicity is derived from so much more than just the absence of clutter and ornamentation. It's about bringing order to complexity." The new mobile operating system will be available this fall.