While they're just starting to catch on en masse in the U.S., diesel-powered vehicles have long been in service around the world. Diesel cars offer a more miserly approach to fuel consumption but not to the detriment of performance, which consumer-grade hybrids tend to suffer from.
A new round of emissions standards punched a dent in diesel sales, but since then, their numbers have seen steady increases, and more manufacturers are developing cars and trucks that are readily compliant with America's newer diesel standards. Even American companies are jumping on the bandwagon.
Here are six new diesel models slated for 2014, hand-picked by GreenCarReports, each offering some not-insignificant fuel consumption advantages over traditional internal combustion engine-powered vehicles.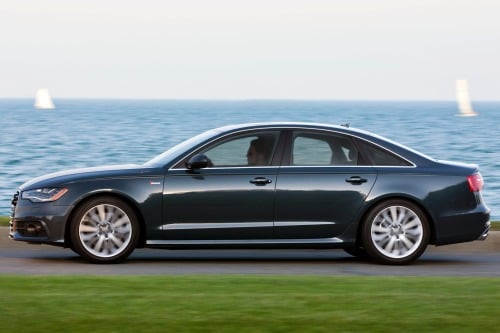 1. Audi A6
Audi has a whole slew of new diesel models bound for the U.S. next year, and the A6 is one of them. The midsize sedan achieves a combined 29 miles per gallon from a 3-liter V6 turbo diesel that puts out 240 horsepower and an impressive 406 pounds-feet of torque. Diesel variants of the A7, A8, and Q5 will be joining the A6 as well as the incumbent Q7.