Like the line between crossovers, wagons, and SUVs, the line between a heavily optioned car and a bona fide luxury vehicle is becoming increasingly blurry. Nowadays, cars outfitted with leather, technology packages, and other perks have come within arm's distance of matching their luxury counterparts by factors of comfort and features.
However, luxury vehicles still have their place, signified by more standard equipment, better performance out of the box, and, perhaps above all else, by the badge resting on the front grille. But one can't exactly waltz out and pick up a brand-new luxury car — their prices tend to be prohibitively expensive. But Autotrader.com argues that this may not exactly be the case, and supports its thesis with this list of six entry-level luxury whips.
The term "entry-level" could mean a few different things, but in this context, it's likely referring to affordability, size, and a sort of "bang-for-your-buck" scenario — the most luxury for the least cost.
The following cars are not ranked or rated.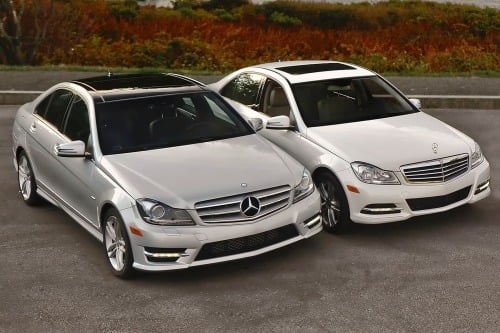 1. Mercedes-Benz C Class
Base price: $35,800
Since the debut of the current-generation Mercedes-Benz C Class in 2008, little has been done to the exterior of the vehicle, aside from some minor cosmetic tweaks. However, the engineers at Mercedes have been busy under the hood: "The C-Class has gone in for a thorough interior makeover in the intervening years, receiving a fresh dashboard look with up-to-date technology, while the old base V6 engine has been ditched in favor of a turbocharged 1.8-liter 4-cylinder that gets 31 miles per gallon on the highway," Autotrader writes.