Hybrids, electric vehicles, and diesel-powered cars have been enjoying immense popularity in the U.S. recently as the American populace continues to exchange their larger, gas-guzzling vehicles for smaller, more efficient models. What were once fringe markets in the country are becoming increasingly more mainstream, and 2013 has proven to be a significantly fruitful year for auto manufacturers with alternative powertrains in their portfolio.
Provided that the sales momentum from this year carries through into 2014, the same automakers can count on further sales of their more efficient vehicles, as several are being prepped for release either towards the end of 2013, or throughout next year. Here is just a handful of what to look forward to.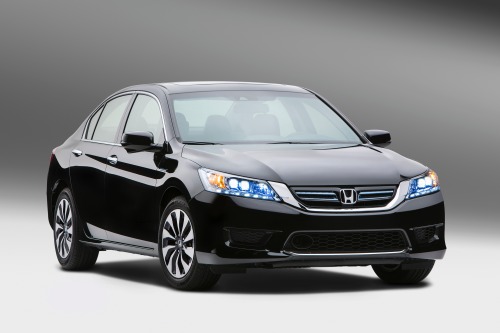 Honda Accord Hybrid
Honda's (NYSE:HMC) new Accord, while a great car, didn't generate a huge buzz at its release (though it has been selling very, very well). However, the hybrid version grabbed headlines when it was revealed that it boasted 50 miles per gallon in the city, and 45 on the highway. The new Accord hybrid will start at a shade under $30,000.