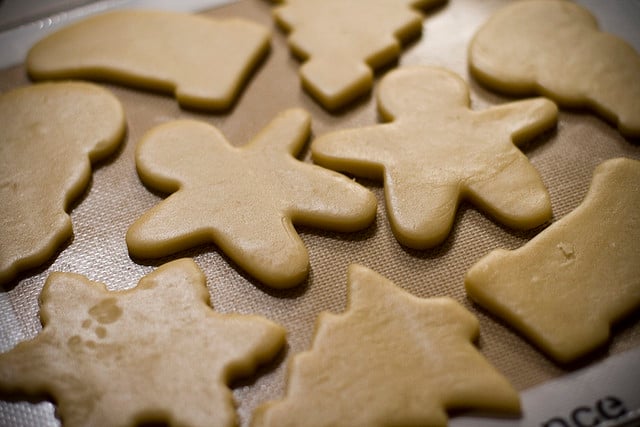 Every year, kitchens across America are transformed into mini-Winter Wonderlands as the flour used in preparing cut-out cookies seems to spread across every surface. They aren't the tidiest type of cookie to make, but they are undoubtably part of the Christmas tradition for many. American Cookery, a recipe book from 1796 contains a "Christmas Cookey" recipe that told 18th century bakers to "cut or stamp into shape and size you please."
Baking soda has replaced the "pearl ash" the 1796 recipe called for, but over 200 years later, the idea of shaping, and sizing Christmas cookies as we please remains a part of the holiday. A sugar cookie, or gingerbread base are often popular choices, but they aren't the only recipes that can be crafted into the perfect Christmas cut-out. Here are seven recipes to add to your Christmas cookie repertoire this year.
Ingredients:
3 3/4 cups all-purpose flour
1 teaspoon baking powder
1/2 teaspoon salt
1 cup margarine, softened
1 1/2 cups white sugar
2 eggs
2 teaspoons vanilla extract
Directions: Sift flour, baking powder, and salt together, set aside. In a large bowl, cream together the margarine and sugar until light and fluffy. Beat in the eggs one at a time, then stir in the vanilla. Gradually blend in the sifted ingredients until fully absorbed. Cover dough, and chill for 2 hours. Preheat oven to 400 degrees Fahrenheit (200 degrees Celsius). Grease cookie sheets. On a clean floured surface, roll out small portions of chilled dough to 1/4 inch thickness. Cut out shapes using cookie cutters. Bake 6 to 8 minutes in the preheated oven, or until edges are barely brown. Remove from cookie sheets to cool on wire racks. Yield: approximately 4 dozen cookies.