With renewed attention on student interest rates and vigorous debate on the usefulness of a college degree in the professional workspace, we look at 8 successful careers that were formed without completing their time at college.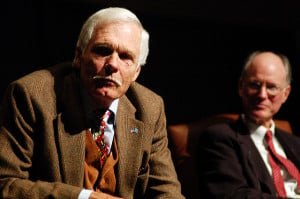 Ted Turner (Net worth: $2 billion)
At the age of 74, Ted Turner has a net worth of $2 billion. Turner attended Brown University, but did not graduate, and instead started working for his father at Turner Advertising. Seven years after his father committed suicide, Turner started buying television stations and turned those investments into Turner Broadcasting, which was later bought by Time Warner Inc (NYSE:TWX). When Time Warner merged with AOL Inc. (NYSE:AOL) in 2001, Turner became the largest individual shareholder. He is now a dedicated philanthropist, and is especially committed to the United Nations, to whom he has already given $916 million on his path to a $1 billion pledge.