Though hybrids have garnered a reputation for being sleepy, numb little cars — the McLaren P1, Ferrari LaFerrari, and Porsche 918 would beg to disagree — it's virtually undisputed that the cars do boast some pretty impressive fuel consumption figures. While hybrids were originally relegated to small, bare-bones compacts when released in the U.S., the technology has now found itself among ranking luxury brands like Lexus.
The list was put together by Edmunds, which used the Environmental Protection Agency's fuel consumption ratings for city, highway, and combined figures as the basis of its rankings. Edmunds compiled a list of 11 vehicles, and the following displays nine of them. Near-duplicates — the Ford Fusion Hybrid and Fusion Energi, for instance — were factored out. Each car discussed is for the 2013 model year.
The mileage is formatted as combined/city/highway.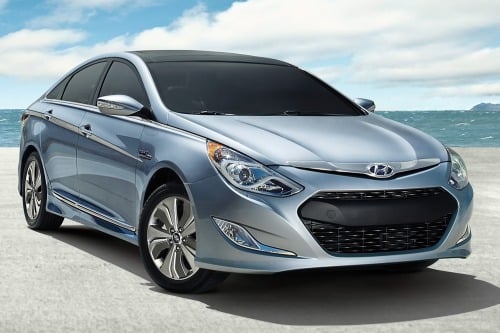 9. Hyundai Sonata Hybrid
The Sonata Hybrid sports consumption figures of 38/36/40, courtesy of a 2.4-liter, 199 horsepower inline four-cylinder. Though the Sonata doesn't have the highest consumption rating, it makes up for it with a stellar warranty and a comfortable, spacious cabin.