For those who can't afford to buy a new vehicle outright, leasing has always been a reliable option to get behind the wheel of a new car without years of saving. Indeed, more people than ever are choosing to lease over buying, with Experian Automotive announcing that leasing has grown by 12.5 percent, reaching the highest point since data was first tracked in 2006.
Experian's State of the Automotive Finance Market report reveals that leasing has accounted for a record 27.5 percent of all new vehicles financed, up from 24.4 percent in the first quarter of 2012. Not only is leasing becoming more popular, but the average monthly leasing cost has decreased from $462 in the first quarter of 2012 to $459 in the same period of this year.
"Consumers tend to shop for vehicles based within the limits of their budget, and leasing is often seen as a viable path to a lower monthly payment," said Melinda Zabritski, senior director of Automotive Credit. "Lenders have seen overall stability come back to the market since the recession, and leasing has gradually returned as a larger part of many lender strategies."
Since leasing is used as a tool to obtain a vehicle for less than the cost of a loan, or in lieu of paying out a lump sum, one might expect the most popular cars leased to be cheaper, affordable models. Interestingly, many of the most popular leases — based on data by Swapalease.com — show that many premium brands and models are among the most commonly leased vehicles. Here are nine highlights:
1. Audi A4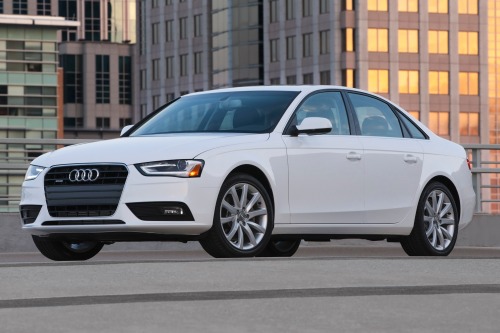 With an average monthly lease price of $495.54, the cost of the Audi A4 actually came down 11 percent in May since April, when the car cost an average of $556.72. In May of last year, the A4 would have cost $454.26 — 9.1 percent less.