With shares of Micron Technology Inc. (NASDAQ:MU) trading at around $7.89, is MU an OUTPERFORM, WAIT AND SEE or STAY AWAY? Let's analyze the stock with the relevant sections of our CHEAT SHEET investing framework:
C = Catalyst for the Stock's Movement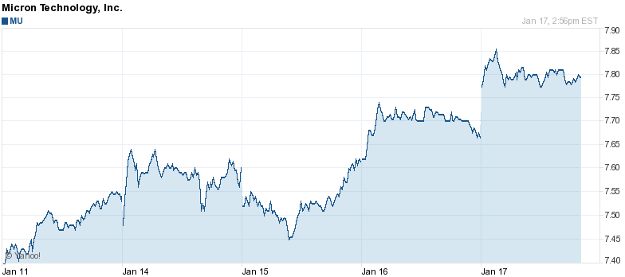 Following this story is like watching a Hollywood movie. As you might already know, U.S. bondholders opposed the Elpida deal. They felt that Elpida was worth closer to $4 billion. They also weren't happy about "secret" meetings taking place in Japan. In addition to that, they claimed a lack of access to Tokyo court, and they felt there wasn't enough transparency in general. That said, as always, it really came down to the money/value. However, it's important to keep in mind that despite Elpida being Japan's largest of DRAM chips, it was failing due to foreign competition and weak demand. A U.S. bankruptcy court judge in Delaware recently ruled that there was no collusion or improper motives in the Micron/Elpida deal, which was good news for Micron Technology and its investors.
Start 2013 better than ever by saving time and making money with your Limited Time Offer for our highly-acclaimed Stock Picker Newsletter. Click here for our fresh Feature Stock Pick now!
You might be wondering why Micron Technology would be interested in a failing company. The Elpida deal will make Micron Technology the second largest DRAM chip company in the world behind Samsung Electronics. It will also increase exposure in the consumer mobile space, and potentially add Apple (NASDAQ:AAPL) as a customer. This doesn't guarantee success. Taking on a failing company will definitely have its challenges.
Now let's take a look at Micron Technology without Elpida.