With shares of Procter & Gamble Co. (NYSE:PG) trading at around $73.01, is PG an OUTPERFORM, WAIT AND SEE or STAY AWAY? Let's analyze the stock with the relevant sections of our CHEAT SHEET investing framework:
C = Catalyst for the Stock's Movement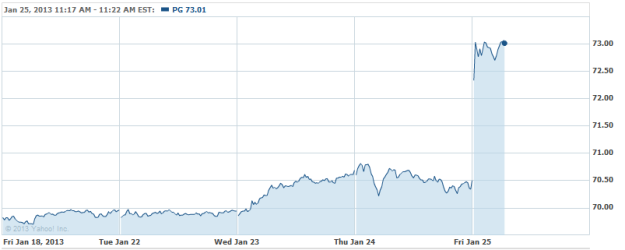 Procter & Gamble never ceases to amaze investors. It's one of the most consistent performers in existence. Quarterly income just more than doubled, and sales, earnings, and share repurchase outlooks were all raised.
Q2 EPS just came in at $1.22 versus an expectation of $1.11. Revenue came in at $22.18 billion versus an expectation of $21.91 billion. Gross margin increased 110 basis points thanks to higher pricing and manufacturing cost savings. Organic sales were up 3 percent. Net sales were up 2 percent. The only real negatives were higher pension and employee benefit costs, and restructuring charges related to the completion of the joint venture with Iberia.
In regards to guidance, the EPS for the March quarter is expected to come in between $0.91 and $0.97. For the full year, EPS is expected to come in at $3.97 to $4.07. The repurchase outlook has been raised to $5 billion to $6 billion opposed to $4 billion to $6 billion.
Let's take a look at some more important numbers for Procter & Gamble…