Adobe Systems Inc. (NASDAQ:ADBE) shares fell more than 3 percent in Tuesday trading, due to the maker of Flash products announcing a 21 percent decline in fiscal first quarter profits.  Net income for the company dropped to $185.2 million (37 cents per share), compared to $234.6 million (46 cents per share) a year earlier.
"Our strategy is to be the leader in Digital Media and Digital Marketing. With the upcoming release of our Creative Suite and Creative Cloud offerings, and with the momentum we have in Digital Marketing, we remain confident about our ability to drive strong revenue and earnings growth," said Shantanu Narayen, president and chief executive officer, Adobe.
Don't Miss: Which Stocks Do Analysts Love the Most?
Although shares have gained 17 percent year-to-date, Adobe has been struggling since Apple Inc. (NASDAQ:AAPL) went public with its criticism of the company.  On April 29, 2010, Steve Jobs posted an open letter titled "Thoughts on Flash."  The letter listed the reasons why Apple decided not to support Adobe's Flash on the iPad, iPhone and iPod touch.  In the letter Jobs concludes, "Flash was created during the PC era – for PCs and mice. Flash is a successful business for Adobe, and we can understand why they want to push it beyond PCs. But the mobile era is about low power devices, touch interfaces and open web standards – all areas where Flash falls short.  The avalanche of media outlets offering their content for Apple's mobile devices demonstrates that Flash is no longer necessary to watch video or consume any kind of web content…New open standards created in the mobile era, such as HTML5, will win on mobile devices (and PCs too)."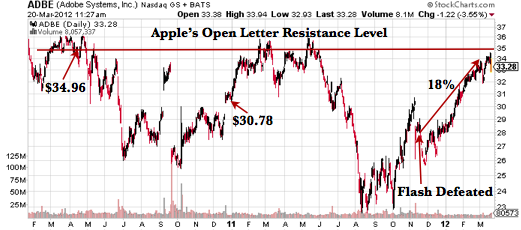 As the chart above shows, Adobe shares closed at $34.96 on April 29, 2010.  However, shares took a tumble and fell below $26 before closing 2010 at $30.78. In November 2011, Adobe finally admitted defeat by saying it would no longer push its Flash software format for mobile browsers.  Instead, the company increased support for HTML5, a group of technologies support by Apple, Google Inc. (NASDAQ:GOOG) and Microsoft Corp. (NASDAQ:MSFT).  Shares traded near $28 at the time of the announcement.  Since then, Adobe shares have gained nearly 18 percent, but have not fully recovered from Apple's open letter.
Although Adobe's revenue has increased for the past four quarters, the sharp decline in fiscal first quarter net income left analysts with mixed feelings.  RBC Capital analyst, Robert Breza, upgraded his rating on the stock from underperform to sector perform.  Breza explains that he has "become more comfortable" with the company's shift towards a more subscription-based model.  Meanwhile, Pacific Crest analyst, Brendan Barnicle, cut his rating on Adobe from outperform to sector perform, citing guidance coming in below expectations.  The average estimate for the second quarter has moved down from 50 cents a share to 48 cents over the past ninety days. The average estimate for the fiscal year is $1.98 per share, down from $2 ninety days ago.
Investor Insight: How Does Apple's Dividend Stack Up Against Other Tech Titans?
To contact the reporter on this story: Eric McWhinnie at staff.writers@wallstcheatsheet.com
To contact the editor responsible for this story: Damien Hoffman at editors@wallstcheatsheet.com