Wall St. Revenue Expectations: Analysts predict a decline of 5.8% in revenue from the year-earlier quarter to $5.64 billion.
Analyst Ratings: With four analysts rating the stock as a buy, three rating it as a sell and seven rating it as a hold, there are indications of a bullish outlook.
Key Stats:
On the top line, the company is hoping to use this earnings announcement to snap a string of two-straight quarters of revenue declines. Revenue fell 9.4% in the second quarter and dropped again in the third quarter.
Balance Sheet Analysis: The company's current ratio of assets to liabilities came in at 1.19 last quarter. The current ratio is an indication of a firm's liquidity and ability to meet creditor demands and generally, for every dollar the company owes in the short term, it has that figure available in assets that can be converted to cash in the short term. The company regressed in this liquidity measure from 1.26 in the second quarter to the last quarter driven in part by an increase in liabilities. Current liabilities increased 6.2% to $6.53 billion while assets rose 0.1% to $7.78 billion.
Stocks with improving earnings metrics are worthy of your extra attention. In fact, "E = Earnings Are Increasing Quarter-Over-Quarter" is a core component of our CHEAT SHEET investing framework for this very reason. Don't waste another minute — click here and get our CHEAT SHEET stock picks now.
Here's how Alcoa traded following its last earnings report 3 months ago and leading up to its upcoming earnings report this week: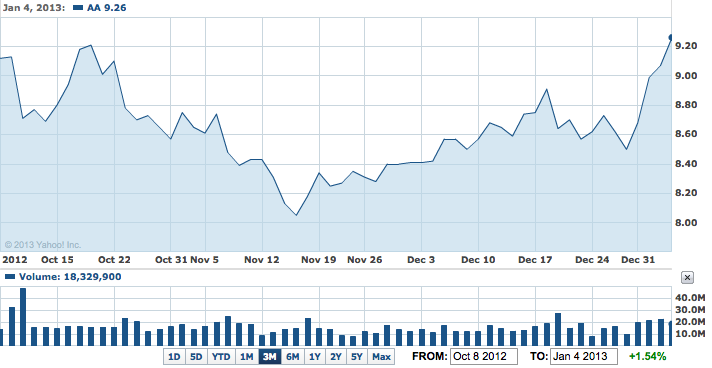 (Company fundamentals by Xignite Financials. Earnings estimates provided by Zacks)
Don't Miss These Additional Hot Stories:
Internet Connected Devices Win Over the Nation
One Down, Two to Go: 113th Congress Faces More Than Just Tax Reform