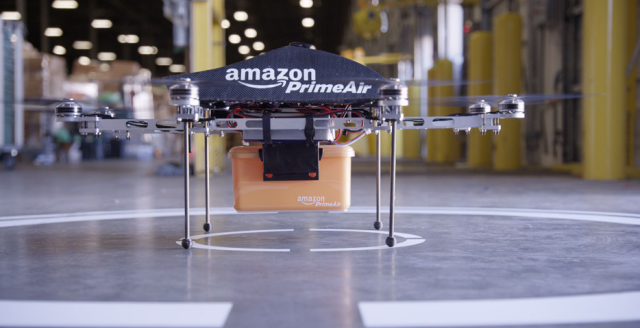 Amazon.com Inc. (NASDAQ:AMZN) CEO Jeff Bezos said in an interview with Charlie Rose aired Sunday night that he believes the company will be able to make deliveries within 30 minutes using unmanned drones that will fly from Amazon's fulfillment centers to drop off a package on a customer's front porch. The service is called Amazon Prime Air.
Bezos said he believes the technology could be put to use by 2015 but also acknowledged that the date is an optimistic estimate. Amazon said in an announcement about Prime Air that the company is ready to move forward whenever the Federal Aviation Administration finalizes regulations about commercial drone use. the e-commerce giant also posted some footage of a recent test flight.
Even if Amazon has created a reliable drone craft, the company will need to convince both regulators and the public that the drones are safe. Unmanned drones navigate using GPS, which is not always reliable, and they could drop out of the sky if motors failed; the craft could also interfere with airplane traffic if a technical malfunction caused them to fly too high.
Drone expert Ryan Calo told the Washington Post that current unmanned drones can only carry a few pounds and stay in the air for about 15 minutes, which means that with its current number of fulfillment centers, Amazon would only be able to offer 30-minute drone deliveries to select customers who happen to live near enough to a facility.