Research group eMarketer has estimated that Amazon.com Inc. (NASDAQ:AMZN) earned over $600 million in ad revenue last year, and that number is expected to grow to $835 million for this year.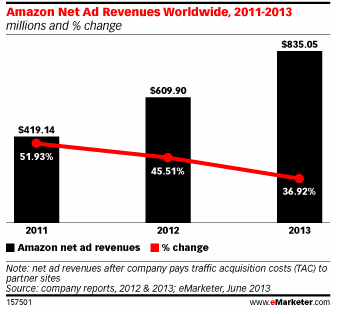 Ad revenue for the e-commerce giant was up 45 percent over 2011′s earnings. Strong and consistent growth in the company's ad revenue is expected in the coming years. Amazon's ad revenue in the U.S. alone is expected to reach $1.1 billion by 2015.
The key to Amazon's growth is its huge network of consumer purchasing data that the website gathers through online retail sales. Competing sites, like Google (NASDAQ:GOOG) and Facebook (NASDAQ:FB), lack such specific information that advertisers use to target potential customers.
Amazon is at work to refine its customer-targeting abilities. The company is currently developing a demand-side platform to improve customer-targeting and expand it into other websites owned by the company and its Kindle tablets. The developments will make Amazon even more attractive to brand and direct response advertisers.