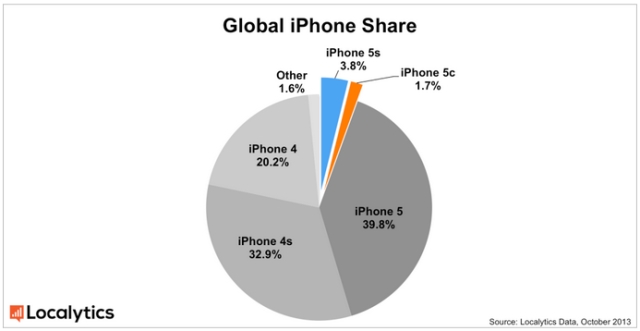 Once again, data provided by mobile app analytics firm Localytics gave Apple (NASDAQ:AAPL) watchers an interesting insider glimpse of iPhone adoption rates around the world. Localytics most recent data is based on over 40 million active iPhone devices examined between September 20 and October 25.
Localytics noted that the gap between the iPhone 5S and the iPhone 5C continues to shrink. According to data that it collected in the first several days after the new iPhones went on sale, the iPhone 5S was 3.4 times more popular than the iPhone 5C in the U.S. Last week that ratio declined to 1.9 iPhone 5S models for every iPhone 5C in the U.S. market. On the other hand, the international gap between the two iPhone models remained fairly wide at 2.3 iPhone 5S models for every iPhone 5C model in the world.
This week, the mobile app analytics firm examined the percentage of both old and new iPhone models that are currently active in the worldwide market. According to Localytics, the iPhone 5S and iPhone 5C hold a 3.8 percent and 1.7 percent share of total worldwide iPhone activations, respectively. The last-generation iPhone 5 has the lion's share of the global iPhone market with almost 40 percent, while the legacy iPhone 4S has a nearly 33 percent share.