While the impact of Apple's (NASDAQ:AAPL) iTunes on the music industry is undoubted, Asymco analyst Horace Dediu has estimated that the iPhone maker may be contributing as much as 60 percent to the digital music download market.
The iTunes music store generated about $3.4 billion for the larger entertainment industry last year, according to calculations from Dediu, while the International Federation of the Phonographic Industry reported earlier this week that global digital music revenues were $5.6 billion in 2012. That would give Apple a share of a shade above 60 percent.
The IFPI, which represents 1,400 recording industry members across 66 countries, also said that the total music revenue of $16.5 billion last year represented its first growth since 1999.
Apple announced in its earnings report that iTunes generated a total of $13.5 billion in revenue last year. Of this, the music store only accounted for about $4.3 billion. According to the Asymco analyst, the company then paid approximately $3.4 billion of the total amount to music labels as licensing fees.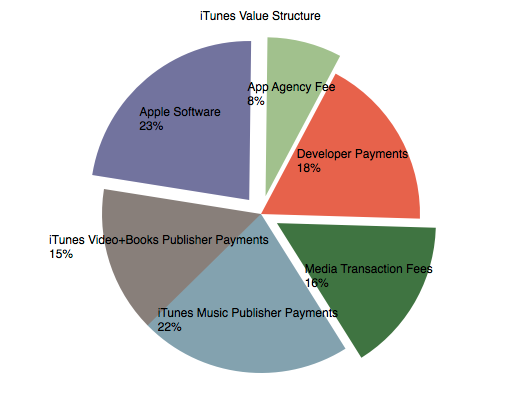 (Chart courtesy of Asymco)