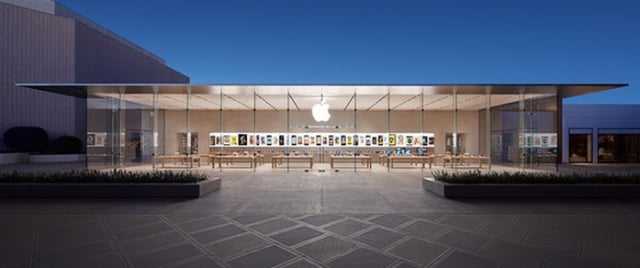 Horace Dediu, who has a reputation as one of the most prescient and thoughtful tech industry analysts working today, recently examined some metrics about Apple Inc.'s (NASDAQ:AAPL) retail stores on his Asymco website. The analyst noted that the number of visitors to Apple Stores increased to 395 million in fiscal 2013 from 372 million in fiscal 2012. As Dediu points out, the total increase in the number of Apple Store visitors is approximately equal to the population of Australia.
However, this doesn't necessarily reflect an increase in the number of visitors per Apple Store. Instead, the increase in the total number of visitors is more likely due to the increase in the total number of Apple Stores. As noted by Dediu, Apple opened 21 new stores in 2013. Meanwhile, the average number of visitors per store per quarter has remained fairly steady, at about 240,000 since mid-2010.
But between 2007 and mid-2010, Apple Stores only averaged about 160,000 visitors per store per quarter. So what caused this "quantum leap," as Dediu calls it, in Apple Store traffic? After eliminating store redesigns or staffing changes as possible causes, the analyst concludes that this traffic increase was most likely caused by the launch of the iPad in April 2010.