American Realty Capital Properties (NASDAQ:ARCP): The company merged with ARCT III, causing JMP Securities to view the combined REIT as having "several looming catalysts," including rising dividends, credit rating initiation and inclusion in the MSCI REIT and Russell 2000 Index. The firm continues to believe that the stock is undervalued, and it keeps its Outperform rating on the stock.

EZchip Semiconductor Ltd. (NASDAQ:EZCH): After Benchmark met with EZchip's management, the firm thinks that the company will see various risks, but it does believe that some of the risks have already been priced into the shares. The company's booking trends continue to be solid, and the firm keeps its Buy rating on the stock.

AeroVironment, Inc. (NASDAQ:AVAV): The company reported weaker Q3 results than predicted, and it lowered its FY13 guidance. Benchmark sees a number of possible upcoming catalysts for the stock, and it keeps its Buy rating and a $24 price target on the stock.

Tangoe Inc (NASDAQ:TNGO): The company has been added to Wunderlich's Best Ideas List as a result of valuation, and it keeps its Buy rating and $30 price target on the stock.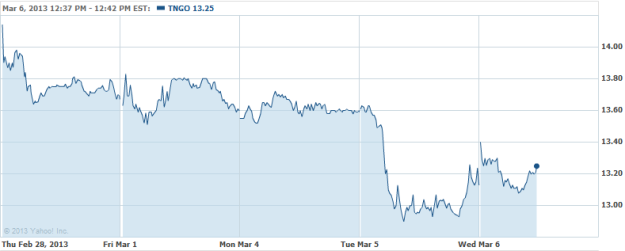 Fusion-io, Inc. (NYSE:FIO): EMC (NYSE:EMC) has announced new flash products, and these are seen as unlikely to impact Fusion-io's near-term growth trajectory, according to Lazard Capital. The firm reiterates its Buy rating on the stock, although it has stated that it sees longer-term concerns on its hardware differentiation continue.

Don't Miss: Factory Orders Cloud The Market's Sunny Day.