In that spirit, Wal-Mart (NYSE:WMT) is joining the brigade of employers with big hearts. Bill Simon, CEO of the retailer's U.S. division, announced an initiative that could make America's largest employer the country's top military employer.
Beginning on Memorial Day, the company will offer a job to any honorably discharged veteran in his or her first 12 months off active duty. Additionally, the company has committed to spending $50 billion over 10 years on American-made goods to support the domestic economy.
"At the heart of our national political conversation today is one issue: creating jobs to grow the economy," said Simon. "We are meeting with our suppliers on domestic manufacturing and are making a strong commitment to move this forward."
"I can think of no better group to lead in revitalizing our economy than those who have served in uniform," he added. "Through their service, veterans give us a land of freedom. When they return, it must be to a land of possibility."
This is a welcome move from a company that currently ranks 78 out of 100 for its veteran-employment initiatives. Even more welcome in light of a recent tragedy at a factory Bangladesh where Wal-Mart sourced clothing, and a Black-Friday strike held by some workers who feel that the company does not properly compensate them, and sometimes abuses its position as an employer.
Here's how the big 4 stocks supporting veterans have traded over the past week: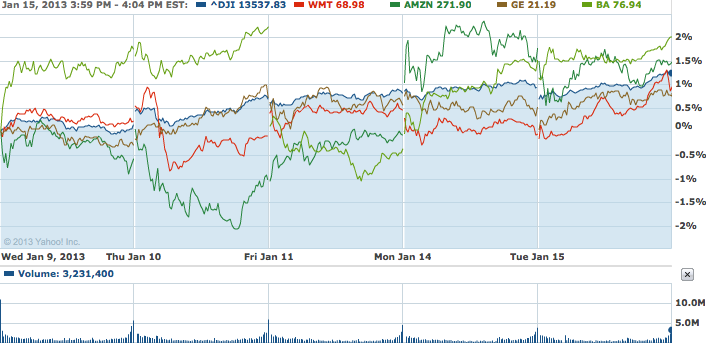 Don't Miss: U.S. Debt Ceiling: Platinum and Gold Are Not the Answer.