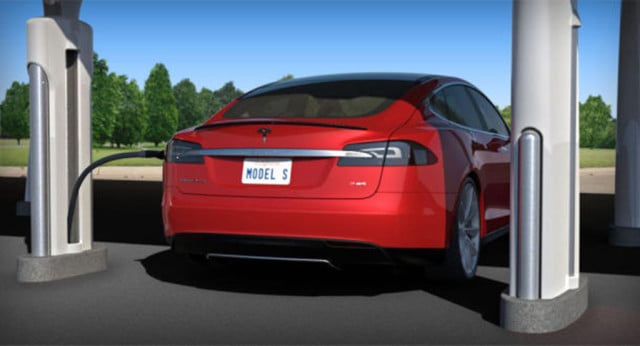 With the rate of automotive technology ever increasing and new products and features hitting the market on a regular and frequent business, it's a fairly daunting task to sort through them to determine which of those innovations qualify as Tech of the Year. However, AOL Autos (NYSE:AOL), in cooperation with AOL property Autoblog, believes it has done so with the help of a voting panel of judges. For 2013, the Tech of the Year Award was given to Tesla Motors' (NASDAQ:TSLA) Supercharger system.
"While enthusiasts will likely associate the name 'supercharger' with forced induction, Tesla has successfully redefined the term to apply to its increasingly sprawling network of charging stations across the country," Autoblog reports. There are currently 54 stations up and running for Tesla owners to take advantage of, though that number is scheduled to continue to increase over the next couple of years. By the end of 2014, Tesla's network could easily double in size to cover about 80 percent of the population, going by the infographic on the company's website.
So what makes the Supercharger such an engineering feat, deserving of such an intense name? For one, it charges a Model S 20 times faster than most public charging stations: 80 percent of the car's charge can be had in 40 minutes. For a family of four, that's essentially a coffee stop and a bathroom break. At a conventional charger, that would take the better part of eight hours. More impressively, Tesla is working on a more powerful charger, which would provide a 33 percent improvement on the current system.