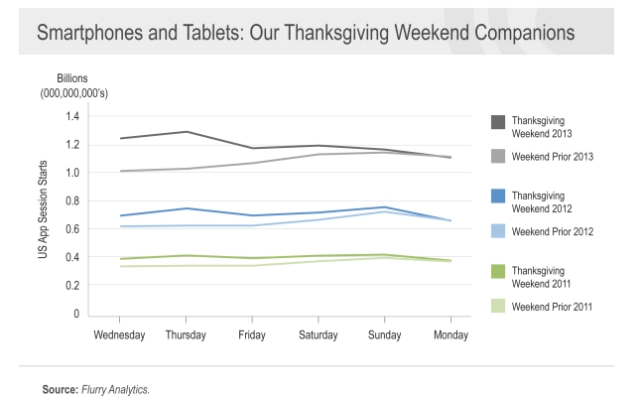 App usage in the U.S. surged during the Thanksgiving Day holiday, according to recently released data from app analytics firm Flurry. Approximately 1.2 billion app starts were initiated during Thanksgiving weekend this year, significantly more than the 800 million app starts recorded last year. Although previously released data from the IBM (NYSE:IBM) Digital Analytics Benchmark service showed that mobile sales during the Black Friday weekend increased by 9.8 percent over last year, Flurry pointed out that the spike in Thanksgiving Day app usage was not just the result of increased mobile shopping.
Flurry Analytics reported that Thanksgiving Day app usage increased by 25 percent this year. In 2011 and 2012, app usage on Thanksgiving Day only spiked by 20 percent. In order to discover what types of apps were driving the usage increase, Flurry broke down the app usage sessions by category and compared the changes in the volume of app sessions to the usage rates during the week before Thanksgiving.
Not surprisingly, the app analytics firm found that there was a solid 26 percent increase in shopping app usage on Thanksgiving Day compared to the week before. However, the biggest app usage category was media apps, such as music, photography, video, and movies. There was a 50 percent increase in the use of media apps during Thanksgiving. The second biggest increase in app usage was games, at 35 percent.